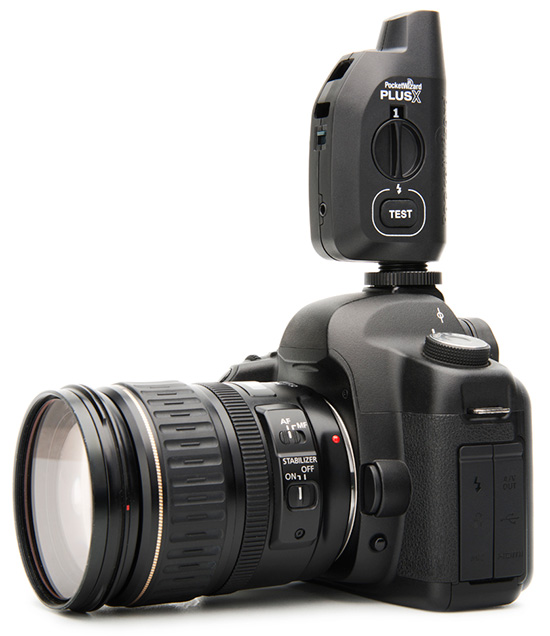 The previously rumored Pocket Wizard Plus X transceiver is now officially announced and is currently in stock at B&H for $99.
Technical specifications:
Frequency
344.04 MHz (FCC/IC model)
Channels
10 standard channels
Zones
Single zone
Antenna
Precision tuned internal coil
Range
1600' / 487.7 m
Max Sync Speed
Up to 1/250 sec. (focal plane shutter)
Up to 1/500 sec. (leaf shutter)
Triggering Speed
Up to 14.5 fps
Contact Time
62 ms (in normal operation)
Transmitting Output Power
Less than 1 mW
Power Source
2x AA (LR6) batteries; 1.5V alkaline, NiMH, NiCAD, NiZn, or lithium chemistries accepted
Battery Life
Up to 100 hours (with alkaline batteries)
Max Port Sync Voltage
300V (camera/flash port)
Max Current Handling
1.0 A peak
0.2 A continuous current limited
Voltage Present
3V
Housing
High impact plastic with captive battery door
Mounting
Hot shoe, D-ring loop, 1/4"-20 threaded socket
Input/Output
3.5 mm stereo miniphone jack, hot shoe
Operating Temperature
5-120°F / -15-50°C
Storage Temperature
-22-185°F / -30-85°C
Dimensions
4.2 x 2.1 x 1.2" / 10.7 x 5.3 x 3 cm
Weight
3.9 oz / 110 g (with batteries installed)
More details availbale at Thephoblographer.