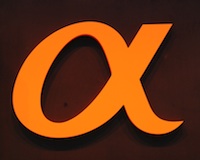 I received a rumor that Sony will introduce two DSLR models at the CES show in Las Vegas between January 7th and 1oth, 2010: Alpha 450 and a successor to the Alpha 700 (not clear what will be the exact model number). The Alpha 450 will not have video capabilities (the a700 replacement is also not expected to have built-in video). Just a reminder what Sony mentioned in an interview few months ago about VDSLR: "If the firm (Sony) should decide to make a dSLR with movie capture feature, it will want to make this as good as its Handycam."
In the mean time Adorama has also listed the Sony a700 as "no longer available".
In an interview with DCWatch, Sony mentioned that they would probably keep the existing Alpha mount if and when they release an EVIL camera.