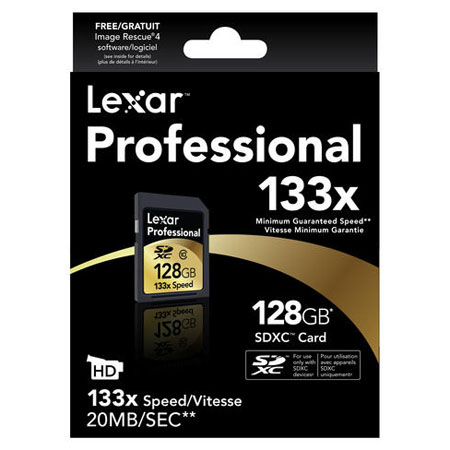 Lexar announced today that they started shipping the 64 GB and 128GB SDXC memory cards that were announced during CES 2011 in January. The 128GB version will cost $279.95 and the 64GB will costs $129.
Press release and a video from the Lexar production facility:
128GB and 64GB SDXC Cards Enable Capture of High-Resolution Images and HD Video on Compatible Devices
Fremont, CA, March 15, 2011 – Lexar Media, a leading global provider of memory products for digital media, today announced it is now shipping the Lexar® Professional Secure Digital Extended Capacity (SDXC) 133x memory card in capacities of 128GB, an industry first, and 64GB. The Lexar Professional SDXC cards are available in B&H Photo and Video, and Adorama Camera stores across the U.S, as well as on www.lexar.com.
These large capacities make Lexar Professional 133x SDXC cards an excellent choice for shooting continuous, rapid-fire images and extended lengths of 1080p high-definition (HD) video on a single, high-performance solution. Also, the Professional SDXC cards offer a Class 10 speed rating with a minimum guaranteed speed of 133x, or 20MB per second, and accelerate professional workflow by quickly transferring high-resolution images and HD video from the memory card to the computer when paired with an SDXC-enabled card reader, such as the Lexar Multi-Card 24-in-1 USB Reader.
"We saw a demand for a professional card that would allow photographers to not only capture more high-resolution images and HD video, but to also take advantage of the full capabilities of their high-performance digital SLRs and camcorders," said Pachi Chen-Wong, senior product marketing manager, Lexar Media. "With the new Lexar Professional SDXC cards, we developed a product that will enhance the professional photography workflow. With capacities of 64GB and 128GB, photographers can capture, store and transfer more images and HD video in one place than ever before."
The Lexar Professional 133x SDXC memory cards include the latest version of award-winning Image Rescue® software to help recover lost or deleted photo and video files. All Lexar product designs are tested in the Lexar Quality Labs, a group of facilities where all Lexar product designs undergo extensive testing to ensure performance, quality, compatibility, and reliability with more than 800 intended digital devices.
The Lexar Professional SDXC cards include a limited lifetime warranty and free, dedicated professional technical support. The 64GB and 128GB Lexar Professional SDXC memory cards are available now at B&H Photo and Video, Adorama Camera and on Lexar.com, with MSRPs of $199.99 and $329.99 respectively.