As I previously reported, the first two Zeiss Loxia full frame manual focus lenses will be 35mm f/2 and 50mm f/2. Here is the first leaked picture of the Zeiss Loxia 50mm f/2.0 Planar lens and the rumored specifications: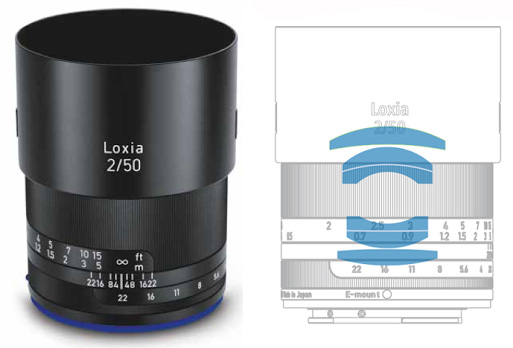 Update – this is the Zeiss Loxia 35mm f/2.0 Biogon full frame E-mount lens:

Update – here are the detailed specifications on the new Zeiss Loxia lenses (see also this cached Zeiss PDF file):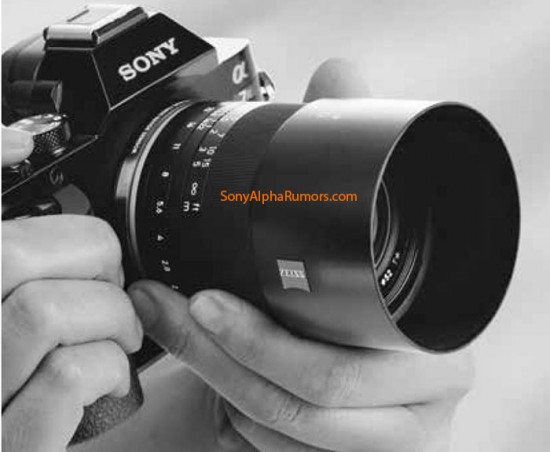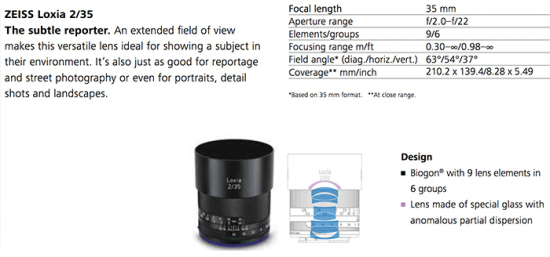 Loxia lenses from ZEISS are perfectly suited to the many strengths of Sony α7 series cameras. Add to that their compact size and low weight, and you have a series of lenses you can use just about anywhere for high quality photographs and films.
High precision
• Precise and durable construction, low weight. • The functionality of the Loxia lenses is perfectly matched with the camera functions of the Sony α7-series.
Perfect for photography and video
• High quality images thanks to proven optical design. • Automatic activation of the magnification function when turning the focus ring. • Optional switchable aperture lock, allowing for smooth adjustment in video mode. • Consistent 180° focus rig rotation for all lenses in the series.
High quality construction
• Robust, all-metal construction for many years of use. • Grippy focus ring for fine manual adjustment. • A special gasket at the mount protects the connection between camera and lens.
Focal length 50 mm
Aperture range: f/2.0–f/22
Elements/groups: 6/4
Focusing range m/ft: 0.45–∞/1.48–∞
Field angle* (diag./horiz./vert.):  46.78°/39.38°/26.70°
Coverage** mm/inch: 255.1 x 168.3/10.04 x 6.63
Length  mm/inch: 66.2/2.6
Diameter  mm/inch (max.): 62.1/2.44
Weight* g/oz:
320/11.29
Filter thread: M 52 x 0.75
Focal length 35 mm
Aperture range: f/2.0–f/22
Elements/groups: 9/6
Focusing range m/ft: 0.30–∞/0.98–∞
Field angle* (diag./horiz./vert.):  63°/54°/37°
Coverage** mm/inch: 210.2 x 139.4/8.28 x 5.49
Length  mm/inch: 66/2.6
Diameter  mm/inch (max.): 62.1/2.44
Weight* g/oz: 340/12
Filter thread: M 52 x 0.75