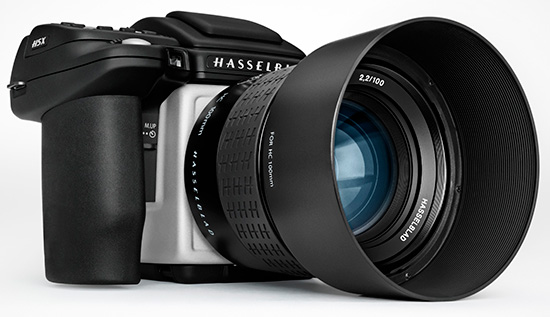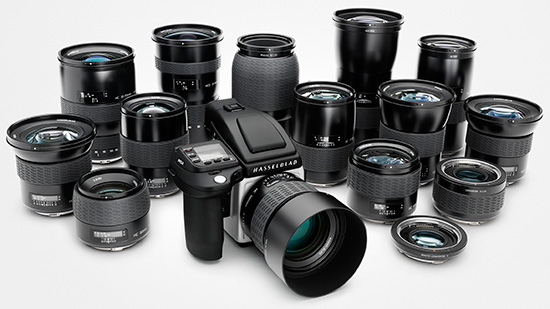 Hasselblad announced the previously rumored H5X camera. Here are the technical specifications (check pricing and availability):
Camera Type: SLR type camera with interchangeable lenses, viewfinder and magazines
Lenses: Hasselblad HC and HCD lenses with integral lens shutter. Autofocus or manual focusing. All C-type lenses from the V system with optional CF lens adapter
Shutter: Electronically controlled integral lens shutter in each lens. Shutter speed range 1/800 s to 18 hours
Image format: 56 x 41.5mm (Width x Height)
Viewfinder Options:

HVD 90x: 90° eye-level viewfinder w. diopter adjustment (-5 to +3. 5D). Image magnification 3.1 times. Integral fill-flash (G.No. 12 @ ISO100). Hot shoe for SCA3002-system flashes from Metz™
HV 90x: 90° eye-level viewfinder w. diopter adjustment (-4 to +2.5D). Image magnification 2.7 times. Integral fill-flash (G.No. 12 @ ISO100). Hot shoe for SCA3002-system flashes from Metz™
HV 90x-II: 90° eye-level viewfinder w. diopter adjustment (-4 to +2.5D). Image magnification 2.7 times. Integral fill-flash (G.No. 12 @ ISO100). Hot shoe for SCA3002-system flashes from Metz™
HVM: Waist-level viewfinder. Image magnification 3.2 times

Focusing screen: Acute Matte type D with markings for spot metering area and AF sensitive area. Optional screens with grid and/or format markings available.
Focusing: Automatic and manual focusing. Instant manual focus override. AF metering with passive central cross-type sensor. Metering range EV 1 to 19 at ISO100. High power white focus assist LED for low light conditions
Focusing modes: Manual with optional focus indication in viewfinder, Single shot AF and Continuous AF. Focus lock available in AF modes either with shutter release or any of the four programmable buttons. True Focus to compensate for focus shift when re-composing
Flash control: Automatic TTL-OTF centre weighted system. Uses built-in flash or flashes compatible with SCA3002 (MetzTM). Output can be adjusted from -3 to +3EV. For manual flashes a built-in metering system is available. ISO range 16 to 6400 (excluding any exposure adjustment)
Exposure metering: Metering options (with HV 90x-II and HVD 90x): Spot, Centre Spot and Centre Weighted. Metering range Spot: EV2 to 21, Centre Weighted: EV1 to 21, CentreSpot: EV1 to 21. Exposure lock with separate button on camera
Exposure modes: Manual, Aperture priority, Shutter speed priority, Programmed and Programmed Variable
Automatic bracketing: Available with 2, 3, 5, 7 or 9 frames. 1/3, 1/2, 1, 2 or 3 EV step. Exposure sequence can be changed
Power Supply: Rechargeable Li-ion battery (7.2 VDC/2900 mAh)
Dimensions (WxHxD): 144 x 110 x 88mm
Weight (body only): 830g
Disclaimer: Specification subject to change without notice
Hasselblad announces groundbreaking medium format options with new H5X system at Photokina
Hasselblad has announced the launch of a new and exclusive medium format camera body.
The highly versatile H5X has been developed primarily for H1, H2, H2F and H4X photographers who seek H5 capability – and also as a backup body for H5D users.
The H5X, which boasts latest capture functionality and works seamlessly with Hasselblad's world-leading H System lenses, comes after the spring launch of the world's first 50MP CMOS Sensor H5D-50c camera and the summer launch of the new H5D-50c MS, H5D-200c MS and the CFV-50c CMOS digital back.
Hasselblad will showcase the new H5X at photokina (Sep 16-21: Hall 02.1 Stands AO21, BO20, AO10).
Michele Channer, Hasselblad International Sales Director said: "This cutting edge camera body, which can be purchased with no trade-in required, further extends the Hasselblad capture palette for photographers. Based on the widely-acclaimed H5D range this unit is compatible not only with most of the digital backs from older H System products but also most of the third party digital backs. Additionally, photographers who love shooting film now have access to this highly advanced camera body."
She added: "Photographers choosing the H5X can embrace the unique and comprehensive Hasselblad lens range – and for third party digital backs, the new body offers the same functionality as the H4X."
The H5X, which will retail at €4,595 without viewfinder (or €5,795 with viewfinder) excluding tax, provides the same extensive functionality as the H1 and H2 cameras but with a number of new functions, including:
True Focus – which enables photographers to concentrate completely on creativity without worrying about focus mechanics.
Full HC and HCD lens compatibility, including HCD 24; HCD 28 and the HCD 35-90 zoom lens.
HVD 90x viewfinder optimised for 36×48 mm format.
HV 90x-II viewfinder optimised for the film and 40.2×53.7 mm format.
High power AF illumination.
The H5X features eight memory banks for easy access to previously saved camera settings.
All new programmable button options available with an H5D sensor unit (not with third party backs).
Other H5X highlights include:
Tilt/Shift solution with six lenses using the HTS 1.5x Tilt/Shift adapter.
Superior viewfinder options.
H5D design on grip and grip display, for improved handling and readability.
Backup camera for H5D users.