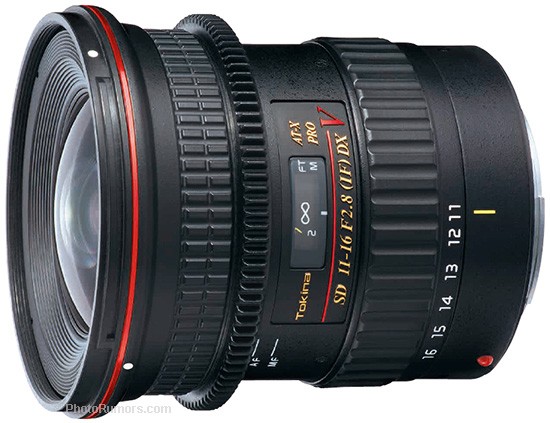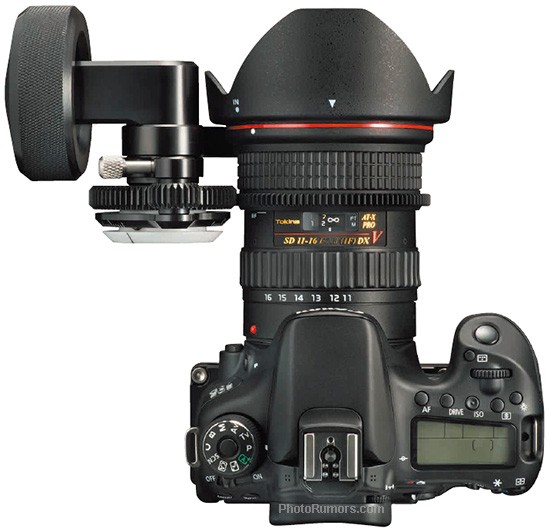 Tokina announced a new AT-X 116 PRO DX V lens equipped with an interlocking follow focus gear for cinematography. Here are the details:
This lens has a manual focusing ring with an interlocking follow focus gear to allow the to be used in a cinema follow focus system. This lens is for shooting video with DSLR (VDSLR) cameras.
To use follow focus, the manual focus ring is placed in the MF position before shooting.
When photographing normally (taking photos), auto-focus can be used.
Razor sharp images are achieved through the inclusion of a new aspherical lens and super-low dispersion glass
A PM-O aspherical lens element is placed in the front group. This element working in combination with the glass-molded aspherical lens placed in the rear group corrects or various aberrations while ideally correcting distortions as well.
The further correction of chromatic aberrations is achieved through the use of two more elements of SD (Super-Low Dispersion) glass " FK03″ which is close to fluorite glass.
Superb operation in a compact body
AF-MF switching is accomplished by simply sliding the focusing ring forward and back on the lens barrel.
The feel when manually focusing has moderate sense of torque in the focus ring, enabling precise focusing.
Realization of an F2.8 large diameter zoom as well as a minimum shooting distance of 0.3m.
It is effective in taking photographs utilizing perspective changes. The filter size is 77mm, and C-PL filters can also be used.
Specifications
Optical structure elements / groups: 13-11
Angle of view: 104゜~ 82゜
Minimum focus distance (m): 0.3
Maximum macro magnication: 1 : 11.6
Minimum aperture: 22
Number of aperture diaphragms: 9
Filter size (mm): 77
Overall length (mm)
Maximum diameter (mm): 84.0
Weight (g): 550
Lens hood: BH-77B