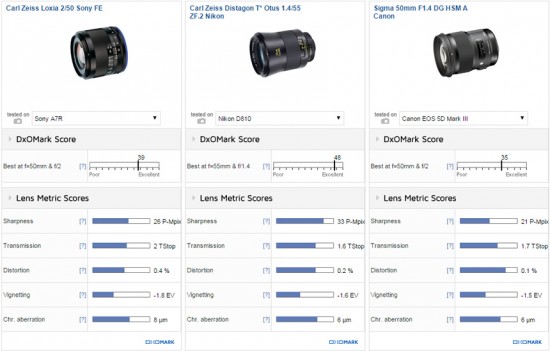 Zeiss Loxia 2/50 Sony E-mount lens review can be found here:
"Anyone looking for a small, high-grade 50mm lens for the Sony A7-series cameras will find a lot to like about the Zeiss Loxia. Not only is it relatively small and lightweight compared with other lens options such as the 55mm Otus (which could be used with an adapter), it is a very good performer, not to mention a lot more accessibly priced. It's still not cheap, of course, and somewhat bizarrely, it competes directly with the similarly-priced Sony-made Zeiss-designed 55mm f/1.8 which not only is a slightly better performer in the outer field, but is an autofocus model, which may appeal to a wider market. Still, the Loxia is a great lens, but choosing between it and the Sony model may come down to whether you prefer manual focus or not."

The Sigma 24-35mm F2 DG HSM Art lens (Canon mount) review is here:
"At around $999, the Sigma 24-35mm f2 DG HSM A is certainly an intriguing option for Canon users. Image quality challenges Canon's 24mm f2.8 IS and 35mm f2.0 IS primes once stopped down, and saves around $200 in the bargain. With the 28mm f2.8 IS at around $569, there's even more tempting savings to be had. Optical quality like this costs money. The Canon models have stabilization, which is difficult to put on a price on, but others might be more attracted by the zoom's flexibility: changing lenses is a chore at best and is especially so in hazardous environments.

Sigma has done well to introduce this model, but it is so good that it's in danger of competing with the company's own high-speed f/1.4 models. However, while they stand out for their quality at wider apertures, this new zoom is rather the more practical and arguably more useful option for everyday shooting."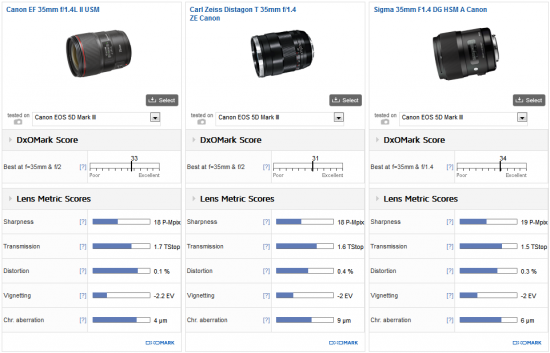 The latest DxOMark review is for the Canon EF 35mm f/1.4L II USM lens review:
"With the introduction of high-resolution bodies such as the Canon EOS 5Ds and 5DsR, with their ability to highlight lens flaws, it comes as little surprise to see Canon roll out new versions of some of the older models in their line-up. The original 35mm f/1.4 wasn't a bad performer, but it was beginning to show its age. The new model greatly surpasses the original in several key areas. It is generally sharper, but it's the improvement in geometry and uniformity that really impresses. Not only does it have low field curvature and astigmatism, but Canon has also dramatically lowered lateral chromatic aberration, with the overall effect of greatly improving imaging performance in the outer field (where the older model was weak). The new Canon even outperforms the highly-regarded Sigma for uniformity at wider apertures - however, the Sigma remains much more accessible. At $1799, the Canon certainly isn't cheap, but over the long term it should prove to be a good value."