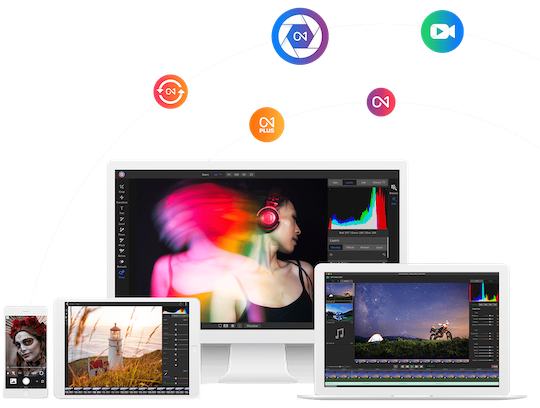 Today ON1 announced the upcoming release of ON1 Photo RAW 2020 and three new products – ON1 Video, ON1 Photo Mobile, and an ON1 Sync Service.
The new ON1 Photo RAW 2020 is now available to pre-order: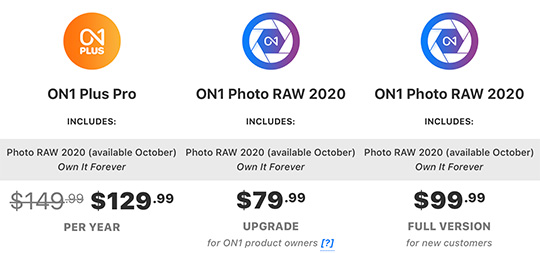 Additional information:


In the coming months, ON1 will deliver a complete line of photo and video products to all levels of photographers providing an integrated creative workflow. For a decade and a half, ON1 has provided award-winning software to millions of photographers worldwide. ON1 accomplishes this by being different than other photo software companies. ON1 puts the photographer first, and this means customers have complete control over every aspect of their photography, including having a say in the products ON1 develops. Photographers also control how they purchase ON1 software, where they store photos, their choice in capture devices, as well as their choice in cloud storage provider. Having total control over photographic and video editing style is also central to using ON1 products.
The first to arrive is the next major release of ON1 Photo RAW 2020, the professional-grade photo organizer, raw processor, layered editor, and effects app, available this fall. Significant new features include AI-powered features AI Match and AI Auto, four filters in Effects (Weather, Sun Flare, Color Balance, Channel Mixer), Custom Camera Profiles with X-Rite, SmugMug integration, improved noise reduction, a map view, a Print Module, and significant speed and performance enhancements. ON1 will also update the entire preset library and add lots of new looks and styles curated from today's hottest photographic trends. For the first time, ON1 Photo RAW will be available in eleven languages including English, German, Spanish, French, Japanese, Korean, Simplified Chinese, Russian, Portuguese, Italian and Dutch. ON1 will release a public beta in mid-September. Details regarding the complete feature set and pricing for ON1 Photo RAW 2020 will be available at that time.
The new ON1 Photo Mobile 2020 app for iOS and Android will allow you to capture raw photos on your smartphone using the pro-level controls you are familiar with on your interchangeable-lens camera. Photo editing tools for color & tone, enhancing shadows, removing distractions, or adding vignettes, from ON1 Photo RAW will also be available in the new ON1 Photo Mobile. In addition, a new optional service add-on, ON1 Sync, will allow you to wirelessly send raw photos from ON1 Photo Mobile directly to ON1 Photo RAW on your desktop or laptop computers with the non-destructive editing settings intact. You can also push edits from ON1 Photo RAW on your desktop or laptop computers back to ON1 Photo Mobile providing a complete, open, photo editing and organizing system.
The new ON1 Sync service provides you complete control of your photos. You will be able to view and edit photos on all your devices without requiring you to store them in the cloud or a closed system. The new service will also sync albums, presets, and more between all your devices. ON1 Sync gives you the benefits of the cloud for less and allows you to control where your photos live. You can store your photos on your desktop or laptop computer, an external hard drive, in any of the popular cloud services or on your mobile devices, and you can still access them from anywhere. Your privacy is also extremely important to ON1 and using the ON1 Sync service does not grant ON1 any additional rights to the content syncing with this service. ON1 does not have permission to use your photos for image analysis or any sort of marketing purposes. With ON1, you are not the product, you are in complete control of your photos and your privacy. ON1 will release this new optional service along with ON1 Photo Mobile in early 2020.
ON1 also announces ON1 Video 2020, a new video editing app explicitly designed for the photographer. You no longer need to learn complex videography terminology like other video editors to quickly create stunning clips. ON1 Video will be a simple, yet robust video editor that removes the learning curve of other video editors. It will be the perfect solution for wedding, action, and drone photographers. Features include tools for trimming, enhancing, adding audio tracks, grading and sharing video clips using tools, adjustment sliders, and techniques typically found in a photo editing workflow. Additional features will include the ability to create professional time-lapse videos, slideshows, high-quality still-frame captures, and seamless integration with ON1 Photo RAW. A public beta for ON1 Video will be available mid-November with the final release in early 2020.
You're in control of your photography with ON1.
Each year we capture billions of photos for memories, creativity, stories, relaxation, and more – everywhere and any time of day. The equipment and tools we use for creating photos are changing. Photography is changing. These ever-changing photo technologies, tools, and an abundant supply of techniques, and workflows are challenges we all face.
Today, most mainstream software solutions take away control of your photography by locking away the organization and editing of your photos into closed systems. These solutions sort of hold your photos hostage by only allowing access to the tools and features you need as long as you pay up and stay within their system. Alternatively, ON1 believes you should have control of what's yours and what matters to you with your photography.
Our focus will be continuing to provide an open system keeping you in control of your photos. We will continue giving you choices in organization, storage, editing, creative style, and how you purchase ON1 products. We will never force you into a subscription model. You will always have a choice of perpetual license, subscription, or membership when choosing how you buy ON1.
We are also developing our software using new AI technologies and tools. AI provides exciting opportunities for the development of new tools for photography and give better editing results. At ON1, we feel AI should never be used to create artificial or unrealistic results just for the sake of AI. We are inventing new ways to use AI to remove pain points in your workflow and save you valuable time in editing but never at the cost of great imagery. We will do it in a way, so you are still in control of your organization, creativity, and style. Currently, ON1 is working on AI technologies for faster photo organization, sky replacement, object recognition, color enhancements, and skin retouching.
Your photography is everywhere, and with our expansion into mobile, video, cloud, and integration of new AI technologies, ON1 will be there with you. ON1 will help take your photography further and continue meeting your needs as they evolve while ensuring you will always stay in control of your photos.