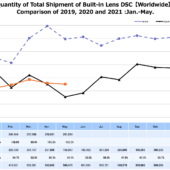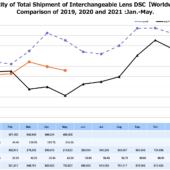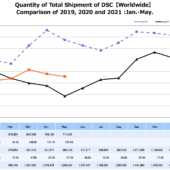 CIPA (Camera & Imaging Products Association in Japan) published their camera production numbers for May 2021 (orange: 2021, black: 2020, blue: 2019, click for larger view):
May 2021 CIPA numbers
Most numbers are well ahead of last year, but of course last year was pretty bad. But this is still a very positive sign for the industry. Mirrorless now has a 55.8% unit share of ILC's and a 75.7% shipped value share. This is certainly the rationale for Canon and Nikon putting most of their efforts there.
Based on the first five months and last year's shipping patterns, we predict a full-year estimate of 7.36 million units compared to 2020's 5.308 million. In 2019, 8.462 million ILC units were shipped, in 2018, 10.76 million were shipped and in 2017, 11.68 million units were shipped.
May 2021 Calendar year-to-date (all comparisons to Jan-May 2020);
DSLR Units : 1035K +23% YTD
DSLR Shipped Value: ¥41.8 billion +14% YTD
Mirrorless Units: 1207K +55% YTD
Mirrorless Shipped Value: ¥130.1 billion +116% YTD
Compact Units: 1266K -4% YTD
Compact Shipped Value: ¥29.9 billion +11% YTD
Lenses for smaller than 35mm Units: 2211K +16% YTD
Lenses for smaller than 35mm Shipped Value: ¥31.9 billion +18% YTD
Lenses for 35mm and larger Units: 1789K, +62% YTD
Lenses for 35mm and larger Shipped Value: ¥95.2 billion +72% YTD
Cumulative YTD Mirrorless unit share (of Mirrorless + DSLR): 55.8% (was 50% Jan-May 2020)
Cumulative YTD Mirrorless Shipped Value share: 75.7% (was 62.1% Jan-May 2020)
The ratio of lenses shipped to bodies shipped is 1.71 for Jan-May 2021. It was 1.78 for Jan-May 2020.
List of participating CIPA companies can be found here.
Source: CIPA (thanks ZoetMB), via NikonRumors
---
15% off Topaz Labs products with code RUMORS15
30% off ON1 products with code NIKONRUMORS
$10 off Luminar with code PHOTORUMORS
10% off Capture One products with code PHOTORUMORS
10% off Voltrox lenses with code NIKONRUMORS
30% off Nik Collection (no code needed)