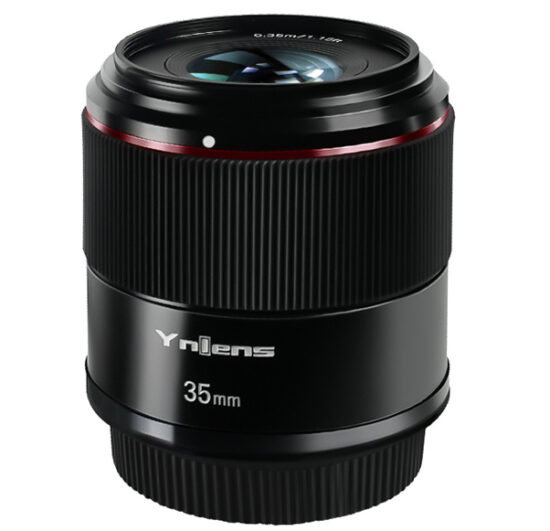 The Yongnuo 35mm f/2 lens for Sony E-Mount was announced last year and Yongnuo just released the lens for Canon RF mount mirrorless cameras: Yongnuo YN35mm f/2R DF DSM.
A week ago Yongnuo also announced a new YN 85mm f/1.8R DF DSM lens for Canon RF mount.
Here are the details on the new Yongnuo YN35mm f/2R DF DSM:

| | |
| --- | --- |
| Mount | RF Mount |
| Lens Frame | Full Frame |
| Angle | Approx. 61.3° |
| Lens Structure | 9 elements in 8 groups |
| Aperture Blade | 7 blades |
| Minimum Aperture | F/16 |
| Minimum Focusing Distance | Approx. 0.35m |
| Maximum Magnification | Approx. 0.13× |
| Drive System | DSM Stepping Motor |
| Filter Diameter/Number of Available | 52mm/1 |
| Maximum Diameter and Length | Approx. φ67×72mm |
| Weight | Approx. 280g |
Small body , light weight: The lens is specially designed for RF mount mirrorless cameras. The maximum diameter and length of the lens is about 67*72mm and the net weight is only about 280g. The lightweight design is portable for long-term hand-held shooting and video recording.
Supports custom setting of control ring: Users can assign common functions such as aperture, shutter speed, and ISO sensitivity to the control ring according to their needs. Rotating the control ring can quickly adjust the corresponding parameters, which can help you greatly improve the convenience of operation and increase the efficiency of creation.
Equipped with AF/MF focus mode switch, supports full-time manual focus: Through the AF/MF focus mode switch, you can quickly switch the focus mode. After the auto focus is completed, you can manually adjust the focus position without switching the focus mode to achieve the desired focus effect, which is easy and efficient.
The lens mount is equipped with a dust- and water-resistant rubber ring: The lens mount is equipped with a dust- and water-resistant rubber ring, which can effectively resist the entry of dust and water droplets.
Quiet CNC Stepping Motor Integrated: Digital stepping motor (DSM) has fast start-stop response, high focusing accuracy, and quieter focusing actions, which is suitable for photo shooting and video recording.
F/2 Large Aperture: With a F/2 large aperture, it's easy to get soft blur effect. You can also use low sensitivity and higher shutter to shoot in low light environment.
9 Optical Lenses in 8 Groups with Nano-multilayer Coating: The structure which is composed of 9 elements in 8 groups with nano-multilayer coating, which effectively improves the light transmittance and suppresses back-light ghosts and glare.
Aspheric Lens: Various aberrations can be compensated by an aspherical lens integrated.
Low Dispersion Lens: Equipped with a low-dispersion glass lens, which can effectively suppress the dispersion problem caused by wide-angle.
7 Circular Aperture Blades: The lens is designed with 7 circular aperture blades. It can shoot circular diffuse spots. It can also take pictures with 14 star effects if the aperture is appropriately reduced.
USB Firmware Upgrade: Equipped with a USB Type-C interface, you can download the latest firmware to upgrade the lens, as well as the control ring.
Metal Bayonet and Contacts: The use of high-precision metal bayonet and gold-plated contacts effectively improves signal conductivity and corrosion resistance. At the same time, it allows the camera and lens to maintain reliable communication, and realizes functions such as auto-focus, aperture control, and EXIF information transmission.
---
15% off Topaz Labs products with code RUMORS15
30% off ON1 products with code NIKONRUMORS
$10 off Luminar with code PHOTORUMORS
10% off Capture One products with code PHOTORUMORS
10% off Viltrox lenses with code NIKONRUMORS
30% off Nik Collection (no code needed)