What is Canon planing to announce on 09.29.09?
I guess 09.09.09 is over, but 09.29.09 is also a good date to announce a new product. Canon also thinks so with this new teaser: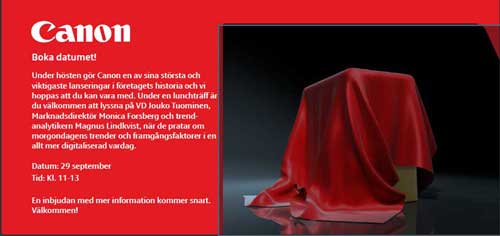 Translation:
"During this fall, Canon will make one of its largest and most important launches in the company's history and we hope you can attend. During a luncheon, you are invited to listen to CEO Jouko Tuouminen, Marketing presiden Monica Forsberg and trend analyst Magnus Lindkvist, talking about tomorrows trends and factors of success in the continually more digitalized everyday life."
Pretty bold statement. Of course the new product may not be photography related – doesn't the box looks too big for a camera/lens?