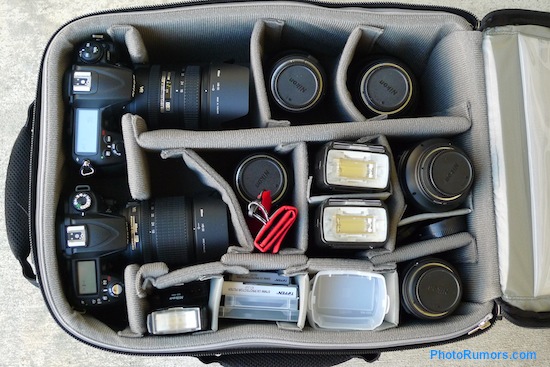 Since I was late reporting this as a rumor before the official announcement, here is a quick preview of the latest product from Think Tank Photo:
Last week Think Tank Photo announced the Airport Takeoff backpack which shares features from the previous Airport rollers and backpack models. I will be posting a more detailed review after I have the chance to use the bag for few weeks but here is a quick preview:
this is a carry on size rolling bag that can be used as a backpack – when not in use the shoulder straps are conveniently stored in a zipped pocket
this bag is BIG, and when filled with equipment can get heavy, but the shoulder straps are solid and can handle the weight
the Airport Takeoff comes with specially designed straps that can be used to attach a tripod on the side and a security cable lock (3 digits combination)
the standard Think Tank rain cover is also included
this product looks like any other carry on language on the outside and nobody will know that you carrying few thousand dollars worth of equipment in it
I counted 25 adjustable Velcro pieces inside the bag which would allow endless layouts to fit your gear
Here are some pictures and the full press release after the break: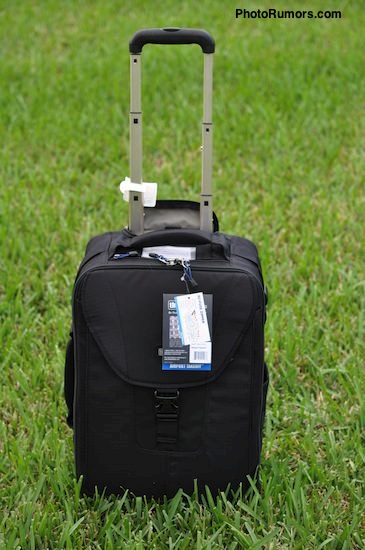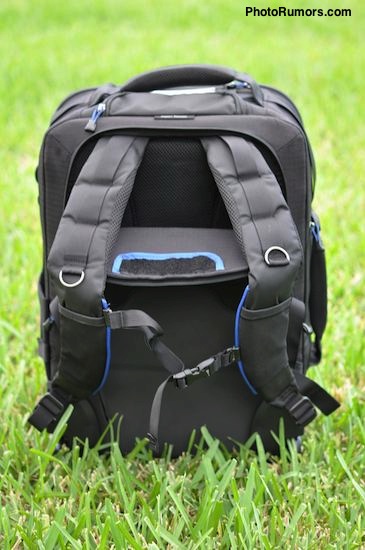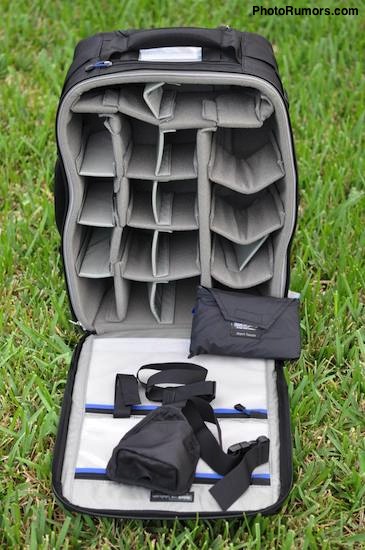 A size comparisson between Airport Takeoff, Urban Disguise 60 and Change Up Think Tank bags: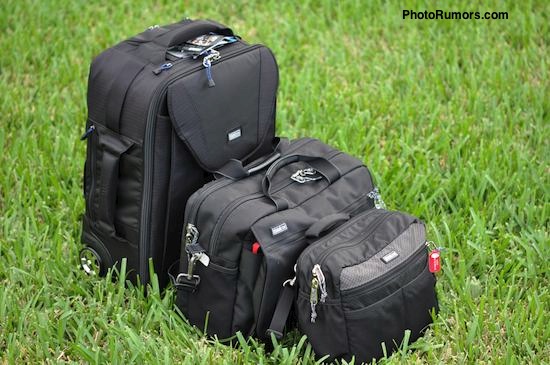 Specifications:
Internal Dimensions:  13″W x 18.4″H x 5.25-6.75″D (33 x 47 x 13 cm)
External Dimensions: 14″W x 21″h x 8″D (35.5 x 53 x 22 cm)
Weight: 8.6 – 10.3 (3.9 – 4.7 kg) depending on accessories used

Press release:
Think Tank Photo announces the release of a new standard in rolling camera backpacks, the Airport TakeOff™.  It is designed as a transportation solution that combines the portability of a backpack with the ease of a rolling suitcase.  Converting it to and from a rolling camera bag to a comfortable backpack is so easy because the straps can be simply tucked away to start rolling immediately, or, they can be completely zipped inside the rear panel.


Designed to comply with international airline carry-on requirements, the Airport TakeOff accommodates pro-sized photography gear, including two pro or regular size DSLR bodies with or without lenses attached.  Its features include:


· Holds up to a 300mm f/2.8 and other assorted lenses
· Quickly deployable and concealable backpack straps
· Front cable and lock to secure laptops
· Lockable zipper sliders
· Transports tripods or monopods easily
· Adjustable sternum straps for tailored usage
· Holds Think Tank's Artificial Intelligence 15 protective laptop case

"We raised the bar with the release of our Airport series of rollers and backpacks," said Doug Murdoch, Think Tank Photo president and lead designer.  "We were the first company to design large bags so that they complied with airline carry-on requirements and provided extra security measures.  With the Airport TakeOff we've taken the best of what we learned in designing those product lines and combined them into a rugged rolling backpack that will help photographers and  multimedia shooters safely transport their gear from one location to the next."
Register
Disclosure: I did not get paid for this bag review, however the bag was delivered to me for free and I am also part of Think Tank's affiliate program.