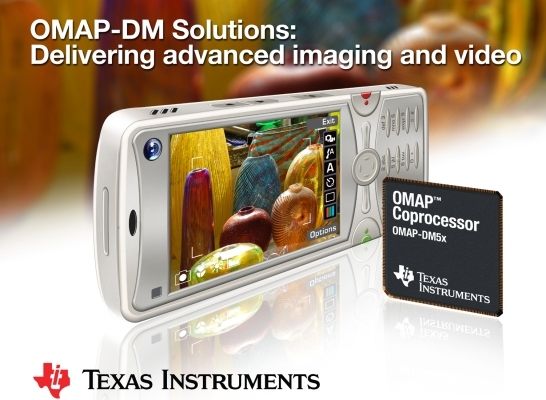 Texas Instruments developed a coprocessor that supports 20MP imaging and 720p video for the phone industry. A matching sensor is yet to be developed.
Press release after the break:

New OMAP-DM5x coprocessors from Texas Instruments bring 20-megapixel imaging and 720p high-definition camcorder capabilities to mobile phones
DALLAS, Oct. 6 /PRNewswire/—Further addressing consumer expectations for mobile phones that deliver performance equivalent to stand-alone consumer devices, Texas Instruments Incorporated (TI) (NYSE: TXN) today announced two new members of its OMAP-DM5x family of coprocessors, which deliver the industry's highest megapixel (MP) capability, with up to 20 MP still imaging capabilities, as well as 720p high-definition (HD) camcorder functionality. The OMAP-DM515 and OMAP-DM525 coprocessors accelerate imaging and video performance, giving handset manufacturers an easy way to upgrade existing handset designs to get to market quickly with cutting-edge multimedia capabilities. For more information, please visit http://www.ti.com/omapdmpr.
Key features and benefits of the OMAP-DM5x coprocessor family:
* Digital SLR-"like" imaging:
o Industry's highest MP support, with up to 20 MP capabilities and high-quality 720p HD video capture
o 8MP shot-to-shot performance, with 1.4 frames per second in high-quality mode and 2 frames per second in burst mode
* Integrated software that delivers stand-alone consumer electronics quality imaging and video:
o Perfect moment technology: Captures a series of shots, allowing users to select the best image in a series
o Smart lighting: Compensates for backlit and low-light environments
o Face tracking: Identifies, recognizes and focuses on faces
o Auto scene detector: Determines appropriate settings based on environment
o Video noise filter: Improves video quality
o Advanced motion-triggered image stability
* TV-out capabilities enable content sharing on larger screens
* Pin compatibility between all devices allows for easy design upgrades to match changing consumer demands
* Eliminates need for external memory
* Works with a variety of mobile baseband and application processor solutions, as well as any high-level or real-time operating system.
OMAP-DM515 and OMAP-DM525 coprocessor specifications
Megapixel (MP) Video resolution
OMAP-DM515 12MP DVD quality to 720p
coprocessor HD camcorder
OMAP-DM525 20MP DVD quality to 720p
coprocessor HD camcorder