The smallest and cheapest 3D camera from Aiptek will hit store shelves this August @ $199.99: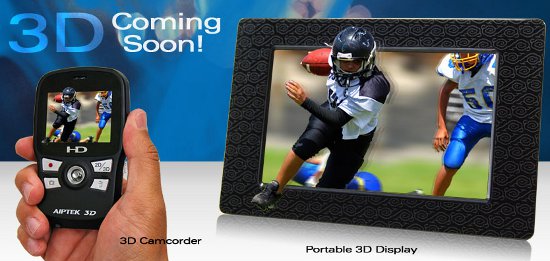 The Aiptek i2 is a 3D HD camcorder that has two 5MP CCD sensors capable of recording 720p video (it can take also 2D photo and videos):
Aiptek's new 3D-HD camcorder is the most powerful on the market today. Utilizing powerful, dual-HD sensors allows you to capture 3D stills and videos that can be converted with the included software to work with most major brand 3D televisions. The 3D-HD has a built-in 3D LCD for instant playback, or you can connect it to your PC via USB, or to your HDTV via HDMI. It also has the ability to shoot video and capture still photos in standard 2D. Open up a whole new Dimension of video with Aiptek's 3D-HD camcorder.
Via 3d-display-info