First in line are some Pentax patents of what appears to be three lenses with a Micro-Four-Thirds mount:
Pentax-MFTS 17mm F2.8 AL
Pentax-MFTS 17mm F2.0 AL
Pentax-MFTS 14mm F2.8 AL
And the drawings: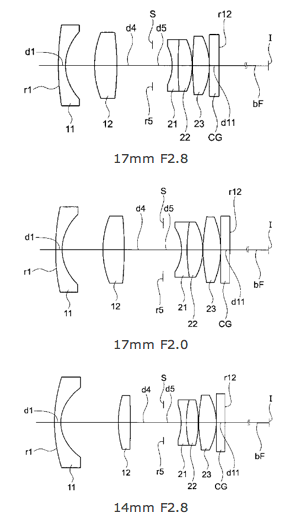 The next patent is from Canon and is for a "Imaging-device cleaning apparatus" which has the shape of  a lens and attaches to the DSLR (patent application 7697063):
"An imaging-device cleaning apparatus is attached to a camera by engaging with a lens mount of the camera typically used for attaching a camera lens. The imaging-device cleaning apparatus includes a nozzle for removing dust and dirt in the vicinity of an imaging section of the camera, and a motor and a fan for supplying air to the nozzle to remove the dust and dirt from the vicinity of an image sensor of the camera."
The last patent is for a in-camera HDR from Canon (patent application 12/630,594):
"The present invention is directed to an image capturing apparatus and an image capturing method which are capable of appropriately expanding the dynamic range of an image sensor.

According to an exemplary embodiment of the present invention, preliminary image capturing is performed using the image capturing unit, and the exposure time is assigned to each pixel based on the result of the preliminary image capturing. Image capturing can thus be performed with a wide dynamic range without a loss of highlight detail and a loss of shadow detail".