What you may have missed  this week: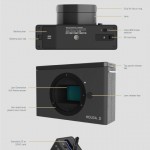 "Enhanced with built-in phase detection pixels, Super CCD EXR is the first sensor in the world with both contrast and phase detection auto focus. F300EXR harnesses this power with an innovative hybrid AF system that intelligently selects between the two focus systems. In most scenes and especially dark scenes, conventional Contrast AF captures beautiful results, but struggles to find a focus when shooting high-contrast subjects or with a long zoom. Only F300EXR with Hybrid Auto Focus can instantly switch to the speed and accuracy of Phase Detection AF for these scenes. Even at maximum 15x zoom when subject is moving and the moment is fleeting, you won't miss the shot!

Phase detection sensor pairs on the EXR sensor work like the sensors of a DSLR. Unlike slower Contrast AF which continually adjusts until maximum contrast is detected. Phase Detection AF divides incoming light into image pairs, performs a single calculation of the phase difference to determine the precise direction and amount of focus adjustment achieving an incredible auto focus detection speed of 0.158* seconds."