The rumor is that before April of 2011, Sony will release a new mirrorless camera with 3  CCD (CMOS) sensors. Each of the sensors will be 6MP and the combined ISO will be up to 819 200 (up to 16mp combined image size). The camera will have an α-mount, contrast AF, 1.5x crop factor. It seems that working models are already floating around to selected individuals.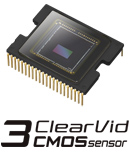 Not sure how this will work exactly, but Sony already has a 3 sensors video camera Sony HDR-FX7 and they recently said that they will use their existing camcorders know-how and apply it to their camera line. Here is the description from sonystyle:
"Three - 1/4" ClearVID™ CMOS Sensors with 1,120K (effective) pixels provides stunning detail and clarity with exceptional video (up to 1080 lines of resolution - HD) and still image performance. The Megapixel technology enhances your digital videos and digital still (1037K - 16:9 mode) photography performance."