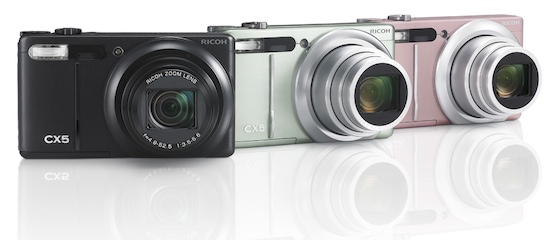 The previously rumored Ricoh CX5 compact camera got officially announced today. The main features:
High-speed autofocus using the unique hybrid AF system developed by Ricoh
Improved image resolution through use of super-resolution technology
Super-resolution zoom equivalent to up to 600 mm in addition to the 10.7× 28–300 mm optical zoom
High-quality photography that widens the range of image expression
14 different types of Scene Modes providing easy access to whole suites of photographic techniques specifically adapted to the subject
Creative shooting modes that allow you to enjoy shooting creative images
High-definition 3.0-inch, 920,000-dot LCD monitor
A wide variety of functions based on the concept of the CX5 being "a tool that you will find yourself wanting to use every day"
Price: £259.99
Full press release after the break:
RICOH COMPANY, LTD. will be releasing its newly developed CX5 digital camera model with its wide-angle, high magnification 10.7× optical zoom (28–300 mm) lens, which has a higher autofocus speed due to the use of Ricoh's new hybrid AF system.
With the new CX5 model, AF focusing times are decreased to as low as 0.2 sec. for both wide-angle 28 mm and telephoto 300 mm, up to half as short compared to the CX4, using Ricoh's unique new hybrid AF system. This ensures that you reliably capture the image you were waiting for, never to miss another good shot again.
Using super-resolution technology, the CX5 also allows (1) recording of images with improved resolution using the "Super-resolution" setting and (2) telephoto shooting at up to 600 mm equivalent with minimal degradation in image quality using "Super-resolution Zoom."
Furthermore, in addition to the new Cooking, Fireworks, and Continuous Golf Swing scene modes, the CX5 has improved features that make shooting photographs even more fun through the use of super-resolution zoom during Zoom Macro mode shooting and other functions. The CX5 is an even more enhanced compact digital camera that was designed based on the concept of it being "a tool that you will find yourself wanting to use every day."
Available in three colors: Black, Silver, and Pink.
Ricoh CX-5 options:
| | |
| --- | --- |
| Rechargeable Battery | DB-100 |
| Battery Charger | BJ-10 |
| Soft Case (Black) | SC-90BK |
| Soft Case (Brown) | SC-90BN |
| Neck Strap | ST-2 |
| HDMI Cable | HC-1 |