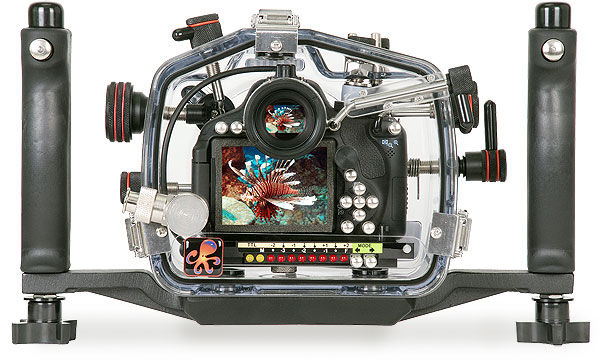 Ikelite announced new underwater housing for Canon EOS T3i/600D DSLR camera with a rating of 200 feet (60m) and a price tag of $1,399.95. Full details after the break:
This heavy-duty clear polycarbonate case is contoured to the camera, durable, and completely corrosion free. A clear view of the main o-ring seal, port o-ring seal and camera controls provides ease of use and confidence. The housing is fully functional to a depth rating of 200 feet (60m) and only slightly negative in fresh water depending on choice of lens port (lens port required, sold separately).
Controls are provided through the housing for every camera function except the diopter adjustment dial and kept water-tight with Ikelite pioneered Quad-Ring seal glands—proven to be the most reliable method of sealing controls. A large zoom control knob can be comfortably reached without removing your hand from the handle. Recording start/stop while in video mode is also accessed effortlessly from the handle by the thumb of your right hand.
The Super-Eye magnifier offers enhanced visibility of the camera's viewfinder while wearing a diving mask. The camera's large LCD screen can be clearly viewed through the back of the housing. The live preview feature of the camera is accessible for framing your photos using the camera's LCD screen.
Release handles with comfortable rubber grips allow for easy attachment and removal of mounting arms at the touch of a button. Two 12-24 screws remove the handle and tray assembly for traveling. A 1/4-20 threaded top mount allows for attachment of a focus light. Accepts #9571.6 optional 1″ (2.5cm) or #9573.1 Flex Ball Adapters, sold separately.
Lens Ports Required, sold separately
A full range of dome and flat ports accommodate most macro, wide angle and zoom lenses. The standard port line offers compact and affordable options without sacrificing quality. The modular port system offers maximum versatility and performance with interchangeable 8″ dome and flat port assemblies. Port attachment is quick and easy with a simple locking system and the port o-ring seal is clearly viewed through the housing. Lens ports sold separately.
Size and Weight
Width …… 9.5 in. (240mm) including controls
Height …… 6.7 in. (170mm) including controls
Depth …… 6.5 in. (165mm) including controls & lens port
Weight …… 5.5 lb. (2500g) housing only
Weight …… 7.2 lb. (3240g) housing with tray & handles
Buoyancy …… Slightly negative in fresh water (actual buoyancy varies dependent on choice of lens and lens port)
Spare Parts
#0132.59 Spare Main Housing O-Ring
#0105 Spare Port-to-Housing O-Ring
#5020 Silicone Lubricant in 4 1cc Tubes
#5512.68 O-Ring Kit with Main O-Ring, Port O-ring & 1cc Lubricant
#0333.7 Tray Mounting Screw 12-24 x 7/8 in. Stainless
#0278.92 Tray Mounting Spacer
#9104.5 Waterproof Bulkhead Cap
#0200.91 Body Cap
TTL Exposure with Ikelite DS Substrobes
We feel that true TTL exposure is so important in underwater photography that we include TTL conversion circuitry in every Ikelite digital SLR housing. The TTL conversion circuitry in the housing works perfectly with all current model Ikelite DS Substrobes. Compared to fiber-optic based systems, hard-wired TTL control provides more correct exposure, short recycle times and increases battery life of your camera and strobe.
Exposure can be adjusted directly through the back of the housing using two pushbuttons. Settings are clearly indicated even at night by a series of LED lights. The TTL mode provides four half f/stop increments over or under flash compensation to fine-tune exposure. Eight manual power settings in half-stop increments allow for complete creative control.
Ikelite DS series Substrobes are industry favorites for their warm, even coverage and lightning fast recycle time. We recommend convenient and affordable strobe with sync cord packages that provide everything you need to take advantage of "automatic" TTL exposure.
Use the #4103.52 dual sync cord to connect two DS Substrobes to your system. All current model Ikelite strobes are fully compatible with this housing. Existing DS Substrobes may require circuitry updates.
Non-Ikelite Underwater Strobes
Non-Ikelite strobes can be used, but they cannot provide eTTL exposure or be adjusted manually through the housing. Special sync cords are available to connect non-Ikelite strobes from Nikonos, Inon, and Sea & Sea.
The optional #9571.3 features a 1″ (2.5cm) ball for attachment to the top of the release handle. This provides a mounting point for Ultralight, TLC, and other non-Ikelite arm systems.
Lighting Options for Video Recording
Light is essential to bringing out the vibrancy and colors of underwater life in your video. Several options are available to add a video light to this system:
The DS161 Movie Substrobe combines the warm, even coverage of our famous Substrobe DS160 with a powerful 500 lumen movie light. This is a perfect way to add performance without adding bulk.
The Pro-V8 LED light is a compact and affordable 500 lumen video light. It easily doubles as a focus light and is compatible with any still or video system.
The PRO-2800 LED is the ultimate in output and angle of coverage. The compact light head produces an incredible 2800 lumens with a natural, daylight balanced color temperature. A 100° spread is great for shooting with wide angle lenses. The rechargeable battery pack attaches directly to the bottom of the SLR tray with just two screws. Doubles as a great focus light for macro photography.