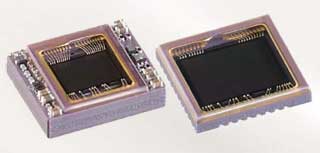 Sony introduced a new high-resolution 1/2.3 16.15MP color CCD sensor ICX682SQW (diagonal 7.757 mm) for consumer digital still cameras that supports high-definition television (equivalent to 720/30p) imaging and continuous capturing high-sensitivity still images.
ICX682SQW specs:
Diagonal 7.757 mm (Type 1/2.3) 16.15M effective pixels
Pixel size: 1.34 µm unit pixel
Vertical eight-field readout
Horizontal divided into fourths output
Horizontal 2-phase drive
From the press release:
"In addition to the needs for even higher resolution in consumer digital still camera market, there are also increasing needs for improved high ISO sensitivity and wider dynamic range. Sony has now used unique fine pixel fabrication technologies and has developed these to create the ICX682SQW 1.34 µm unit pixel CCD image sensor, which achieves the industry's top class of image sensor characteristics while maintaining a high pixel count. This CCD image sensor also achieves high-definition television (equivalent to 720/30p) video imaging and high-sensitivity continuous still imaging (4.04M pixels, 5.046 frame/s)."
Detailed product information can be found on Sony's official website (PDF file).
Via DCViews