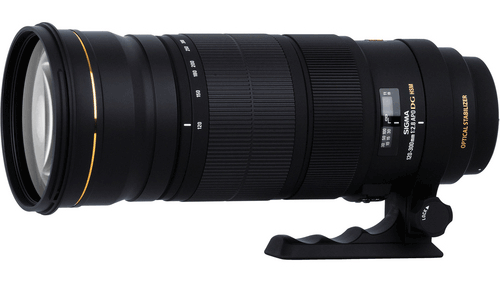 Sigma is now shipping the 120-300mm f/2.8 EX DG OS APO HSM lens in the US with Nikon and Canon mounts. The street price is $3,199.00.
Press release:
Sigma Corporation's New, Optically Stabilized 120-300mm F2.8 Now Shipping in US
Fast, fixed aperture telephoto zoom is ideal for sports and wildlife photographers

RONKONKOMA, N.Y., June 1, 2011 – Sigma Corporation of America, a leading researcher, developer, manufacturer and service provider of some of the world's most impressive lines of lenses, cameras and flashes, has announced that its updated 120-300mm F2.8 EX DG OS APO HSM is now available for purchase in the U.S. for the MSRP of $4,700.
The upgraded version of the Sigma 120-300mm F2.8 EX DG OS APO HSM will replace its predecessor as the essential Sigma lens for sports and wildlife photographers. The fast, fixed-aperture telephoto zoom will now feature some of the company's new "F" Low Dispersion (FLD) glass elements and a splash-proof design which protects from "water spattering" as buttons and connections benefit from O-ring sealing connections to prevent dust and water getting inside the camera body. It also boasts Sigma's proprietary Optical Stabilizer (OS) system, which will enable handheld photography and the use of shutter speeds approximately four stops slower than would otherwise be possible.
"This lens is a must-have for sports and wildlife photographers," said Mark Amir-Hamzeh, president of Sigma Corporation of America. "Think of this as a prime 300mm F2.8 in terms of its ultra-high resolution, with the added bonus of it being an F2.8 constant-aperture zoom lens that allows the photographer to recompose the scene anywhere from 120mm to 300mm without having to change their capture position. There's really no other lens like it."
The versatile lens is designed for use with full frame digital SLR cameras but may also be used with smaller APS-C size sensors with a corresponding effective increase in focal length to approximately 180-450mm with most cameras. The Hyper Sonic Motor (HSM) ensures quiet and high speed auto focus, while allowing full-time manual focus override. The maximum aperture remains constant at F2.8 throughout the entire zoom range. The addition of the optional Sigma 1.4x APO teleconverter effectively makes this lens a 168mm to 420mm F4.0 lens. Adding the Sigma 2x APO teleconverter makes this lens a 240-600mm F5.6 lens (full autofocus operation is possible using the Sigma 120-300mm F2.8 EX DG OS APO HSM and either the 1.4x APO or the 2x APO teleconverter in Sigma, Canon and Nikon mounts).
One SLD and two FLD glass elements, which are comparable in optical performance to fluorite glass, provide maximum correction of chromatic aberrations. The super multi-layer coating reduces flare and ghosting, and the lens design incorporates an inner focusing and inner zooming system to ensure sharp images throughout the entire zoom range. Improved optical performance provides excellent correction of sagittal coma flare and ensures ultra-high resolution, comparable to a fixed focal length lens.