New power grip PG-31 for Sigma SD1 DSLR: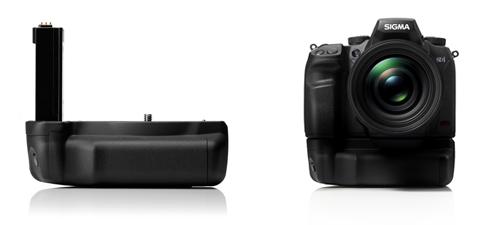 The Sigma Corporation is pleased to announce the release of the Power Grip PG-31, specially designed for Sigma's SD1 digital SLR, the camera that ensures high resolution and breathtaking image quality.
The PG-31 is a specially designed battery grip which upgrades the battery power of the SIGMA SD1 by holding two dedicated BP-21 battery packs. This caters for large-volume photography and photography in field. The PG-31 also incorporates a shutter button and therefore becomes a grip for vertical photography when attached to the SD1, providing a more assured grip.
New BenQ GH700 camera: 21x super zoom with BSI CMOS Sensor:

TAIPEI, TAIWAN, October 31, 2011 – Today, BenQ, an internationally renowned provider of digital lifestyle innovations, announces the launch of its first 1080p FullHD bridge-type digital camera – GH700. Possessing a 21x Super Zoom, with BSI CMOS Sensor for superior low-light performance, and numerous features, it is the ultimate choice for photography enthusiasts who want to venture into higher-end models from a point-and-shoot camera.
The designers decided with a luminous golden ring around the lens to symbolize BenQ's relentless passion for photography excellence. The powerful 21x optical zoom lens satisfies the users by effortlessly capturing sharp, steady shots at a brilliant speed from a great distance.
Combine high quality material with the innovative technology, High Performance Optical Zoom Lens, the GH700 is able to produce exceptionally realistic photos. The aspherical lens enhances the focus providing sharp, high-resolution images; while having high-transmission, low-dispersion material with nano-scale anti-reflection coating – users can get shots with dramatically true-to-life colours.
Most digital cameras' biggest challenge is when shooting in a low-light environment. Built with the BSI CMOS-enabled Handheld Night Shot Mode, the GH700 delivers clear pictures even when using a high zoom ratio. The camera will take several exposures automatically and combine them into one single photo – vivid clarity, each and every time.
GH700 records your life's greatest moments at 60 frames per second in 1080p Full HD resolution with zoom, with outstanding surround sound audio to complement the clear video. Furthermore, GH700 has a built-in wind cut function so audio recorded can have minimum unwanted background noise. On GH700, there is also an interdependent recording button that provides a quick access to start recording instantaneously so nothing will be missed; while pressing the shutter button during recording will capture a still shot. Truly an exceptional camera whether the user is an aspiring photographer or videographer.
The GH700 further enhances the users' shooting experience with the 25mm wide-angled lens; a large 3″ 460k LCD screen; OIS function; 1cm super-macro function; HDR III Enhancement technology and the continuous shooting mode.
The BenQ GH700 will debut worldwide in November, 2011. For more information, please visit www.BenQ.com