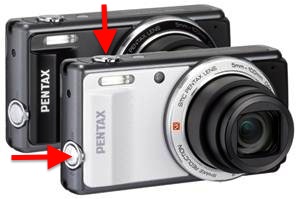 The new Optio VS20 point and shoot camera from Pentax has a second vertical shutter-release button with zoom lever for portrait oriented shooting. The rest of the specs: 3in. LCD display, triple shake reduction, sensor-shift-type shake reduction (SR) mechanism, 20x optical zoom, 16MP sensor, HD video.
PENTAX RICOH IMAGING AMERICAS CORPORATION INTRODUCES OPTIO VS20 WITH 20X ZOOM AND VERTICAL SHOOTING ENHANCEMENTS
(DENVER, CO) January 25, 2011. PENTAX RICOH IMAGING AMERICAS CORPORATION announced the Optio VS20 digital compact camera today. This versatile model features a high-power 20X optical zoom lens (28-560mm equivalent) and a second vertical shutter-release button with zoom lever for effortless portrait oriented shooting. A vertical shutter release and zoom lever give the Optio VS20 a unique feature typically found on DSLR cameras, which lends itself to added stability at long optical zooms, as well as comfortable grip for such images as portraits, high rise buildings and architecture, monuments, trees, sports action, and panorama frames. The Optio VS20 even includes a vertical tripod socket for outstanding stabilized vertical support. A new Handheld Night Snap mode also is introduced to capture beautiful images with minimal blur and noise even in low light settings.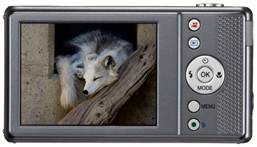 The Optio VS20 body is built in a compact digital form factor, and offers several other advanced functions and user-friendly features including:
A 16.0 megapixel CCD sensor with mechanical sensor shift Shake Reduction for stabilized, blur-free images even in low lighting
A large 3.0 inch, wide view (approx. 170 degrees) LCD for easy image capture and review
Auto Picture mode that automatically chooses the best camera settings
Triple Shake Reduction (SR) for sharp, blur-free images and video
Other new scene modes including Fish-eye, Sketch modes and a Stretch filter for more creative options
The PENTAX Optio VS20 will be available in noble black and brilliant white on www.pentaxwebstore.com for $249.95 in February 2012.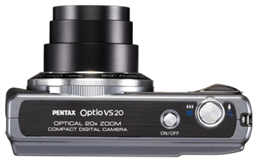 PENTAX OPTIO VS20 FACT SHEET
The 20X optical zoom lens with 28mm wide-angle coverage handles a variety of subjects and scenes
The Optio VS20 features a high-performance, extra-powerful 20X optical zoom lens covering focal lengths from 28mm wide angle to 560mm super-telephoto (equivalent in the 35mm format). The extra-wide zoom range captures images in a wide range of subjects and scenes from landscapes to sports events. A high-quality Macro mode shoots down to just one centimeter from the subject. An Intelligent Zoom function further extends the zoom range to approximately 144X to cover the focal length of an approximately 4032mm super-telephoto lens (in the 35mm format) without compromising image quality.
Effortless, comfortable vertical-position shooting with image orientation shift and vertical position tripod socket
The Optio VS20 enhances vertical shooting three ways:
An extra shutter-release button and a second zoom lever offers a better grip for vertical shots
Automatic shift of image display orientation (from horizontal landscape to vertical portrait by detecting vertical alignment with its orientation sensor)
A vertical-position tripod socket to securely set the camera up with a lighter, more portable tripod
Exceptional image quality
With 16.0 effective megapixels, a high-performance smc PENTAX zoom lens, and a CCD shift Shake Reduction (SR) mechanism, the Optio VS20 delivers well-defined, high-quality images. Even when enlarged, images offer high-resolution prints with outstanding edge-to-edge sharpness.
Large 3.0 inch LCD monitor
The Optio VS20 features an HVGA high-resolution 3.0 inch color LCD monitor with approximately 460,000 dots. Since this extra-large monitor provides a clear view of images and menus, the photographer can quickly and efficiently check captured images and menu settings. In addition, the monitor is treated with AG (Anti-Glare) coating to improve visibility by minimizing reflections and blocking stains such as fingerprints.
Triple Shake Reduction for sharp, blur-free images
Sensor-shift-type Shake Reduction (SR) mechanism
The advanced sensor shift SR mechanism produces sharp, blur-free images even under shake-prone shooting conditions such as when shooting with a telephoto lens, at sunset or indoors with low-lighting.
Digital SR mode*
During still-image shooting, the Optio VS20 automatically raises its sensitivity to as high as ISO 6400 by detecting the subject's brightness level. This user-friendly feature allows photographers to capture the subject at faster shutter speeds to minimize the risk of camera shake and subject shake.
Movie SR mode**
During movie recording, the Movie SR mode effectively compensates for camera shake to produce beautiful, stabilized movie clips.
*When the Digital SR mode is selected, the recorded size is fixed at five megapixels (2592 x 1944 pixels).
** When the Movie SR mode is selected, the angle of view becomes narrower than normal shooting.
Automatic selection of the most appropriate shooting mode
The Optio VS20 features the PENTAX-developed Auto Picture mode, which automatically selects the most appropriate shooting mode for a given subject or scene by accurately assessing various photographic conditions over the entire image field. This user-friendly mode selects one of 15 shooting modes including Blue Sky and Sunset among others, and optimizes various camera settings (such as sensitivity and shutter speed) for the best results with minimal effort.
New Scene and Filter modes for greater creative options
Thirteen user-friendly scene modes allow the photographer to effortlessly capture beautiful images simply by selecting a desired scene mode for a given subject or scene. Handheld Night Snap for low light allows photographers to take pictures while confirming the level of filtering effect on the LCD monitor, and Fish-eye and Sketch modes offer creative visual effects for more personalized expression. A New Stretch filter extends a particular portion of an image for an eye-catching special effect.
Upgraded auto face recognition function with a new face recall function
The Optio VS20 Face Recognition AF & AE function offers a new Face Recall function that prioritizes a pre-registered face when optimizing focus and exposure settings, which comes in handy when taking group shots. To assist the photographer in capturing beautiful, lively snapshots, the Optio VS20 also provides other user-friendly features including the Smile Capture mode that automatically releases the shutter the moment the camera detects the subject's smile, and the Blink Detection function that warns the photographer when the subject's eyes close at the time of shutter release.
High-quality HDTV movie recording with pushbutton start
The Optio VS20 captures beautiful, high-definition movie clips (1280 x 720 pixels).* Since the camera provides an independent movie recording button on its back panel, the user can instantly start recording movie clips from any shooting mode. It also features three new digital filters (Fish-eye, Miniature and Sketch mode) to allow the user to experiment with more diversified visual expressions.
*When the Optio VS20's AV output terminal is used, movie clips are output as normal image-size data. If the user wishes to play back movie clips at high-definition TV proportions (1280 x 720 pixels), the data must be transferred to a personal computer for playback.
Additional features:
Digital level and 48 segment grid display functions for easy confirmation of horizontal and vertical alignment
Wireless remote-control shooting using an optional PENTAX infrared remote control
Choice of three image aspect ratios (4:3, 16:9 and 1:1) to accommodate different applications
D-Range setting to prevent whitewashed (overexposed) and blacked-out (underexposed) areas in an image
Digital Panorama mode to effortlessly create a single panoramic picture from as many as three images
Neck strap included
Image viewing, editing and filing software included: MediaImpression 3.1 for PENTAX (Windows version compatible with Windows 7) and MediaImpression 2.1 for PENTAX (Macintosh version compatible with Mac OS X 10.7)