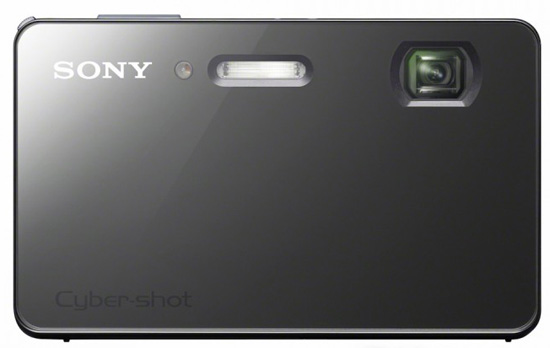 Sony announced three of the previously leaked Cybershot cameras:
Sony Cybershot DSC-TX200V will cost $500, 18 MP "Exmor R" CMOS sensor, 5x optical zoom, 3.3 in. LCD touch screen, waterproof, full HD video recording
Sony Cybershot DSC-WX70 will cost $230, 16 MP "Exmor R" CMOS sensor, 3.0 in. LCD touch screen, 5x optical zoom, full HD video recording
Sony Cybershot DSC-WX50 will cost $200, 16 MP "Exmor R" CMOS sensor, 2.7 in. LCD screen, 5x optical zoom, full HD video recording
SAN DIEGO, Jan. 29, 2012 – Sony's newest Cyber-shot® digital still cameras make it easy to capture beautiful memories anytime and anywhere.
Three new models include the DSC-TX200V model from the ultra-thin Cyber-shot T series and the DSC-WX70 and DSC-WX50 models from the stylish, traditionally designed W series, each featuring a high-resolution "Exmor R" CMOS sensor and an improved BIONZ™ image processor that together boost low light performance and enhance auto-focus speeds, among other benefits.
"We continue to innovate in the compact camera space, finding new ways to help consumers produce high-quality photos and videos as easily as possible, regardless of lighting conditions" said Yosuke Tomoda, director of the Cyber-shot business at Sony Electronics. "With new technologies designed to improve the overall imaging experience – including extended creativity, control and more – this new lineup of Cyber-shot cameras delivers impressive results with stylish, pocket-sized bodies."
High-Resolution, High-Speed, High-Quality
The new TX200V camera features a newly developed 18.2 MP "Exmor R" CMOS sensor, the highest-resolution currently offered in the "point and shoot" market, and a new BIONZ™ processor, which work together to create images and video files with extremely low noise. The advanced model also offers lightning-fast AutoFocus speeds of approximately 0.13 seconds in daytime and 0.25 seconds in low-light situations (speeds may vary based on shooting conditions), helping to ensure you never miss the moment.
Additionally, the TX200V Cyber-shot showcases a new beautiful, reinforced glass design with a large, 3.3-inch (8.3cm) Xtra Fine™ TruBlack OLED wide touch-screen. It is also water-proof (up to 5m or approx.16 feet), dust-proof and freeze-proof (up to 14oF), and features a "Photo Creativity" interface that lets users easily adjust creative settings to produce unique, custom-styled photos.
The new WX70 and WX50 models each are equipped with a high-resolution 16.2 MP "Exmor R" CMOS sensor, with the WX70 featuring a 3.0-inch 921k dot LCD touch-screen and the WX50 featuring a slightly smaller 2.7-inch LCD screen.
All-Around Performance
Each of the new Cyber-shot cameras features a new "Extra High Sensitivity" technology, which minimizes unwanted noise in low-light shooting conditions. For consumers who want to get closer to their subjects without losing quality, these new models have "Clear Image Zoom" technology, which boosts optical zoom to 2x virtual capability (i.e. 5x optical zoom to 10x virtual zoom) at full camera resolution.
The TX200V, WX70 and WX50 cameras also offer image stabilization during video and still shooting. Using technology borrowed from the Sony Handycam® lineup, the "Optical Steady Shot Active Mode" drastically reduces blurring caused by camera shake while on the move. All models can shoot video in Full HD resolution.
Additional notable features of the new lineup include nine "Picture Effect" options for expanded creativity, "Dual Record" capabilities, 3D shooting modes (3D Still Image, 3D Sweep Panorama and Sweep Multi Angle), fast shooting speeds (10 fps burst mode) and more.
Product Specs, Pricing and Availability
The new assortment of cameras and an expanded range of stylish accessories, including the new LCS-WM and LCS-THT soft carrying cases, will be available this March at Sony retail stores and online (www.store.sony.com) as well as other authorized retailers throughout the Sony dealer network. Detailed specs are below:
The DSC-TX200V camera will be available in silver, red, and violet for approximately $500. Features include:
• 18.2 MP "Exmor R" CMOS sensor
• 26mm equivalent lens with 5x optical zoom, 10x virtual zoom via "Clear Image Zoom" technology
• "Extra High Sensitivity" technology enhances low-light shooting capabilities
• Lightning-fast AF speed of approximately 0.13 second in daylight, 0.25 seconds in low-light (speeds may vary based on shooting conditions)
• Beautiful, slim reinforced glass design with 3.3-inch (8.3cm) Xtra Fine™ Tru-Black OLED wide touch-screen
• Waterproof (up to 5m,16 feet), dustproof and freeze-proof (up to 14oF)
• Captures 13 MP equivalent still images while shooting video via "Dual-Record"
• Full HD Movie Shooting capability (1920×1080/60p) and Optical SteadyShot Active Mode
• Photo Creativity interface and 9 "Picture Effect" options for creating unique, custom-styled photos and video
The DSC-WX70 camera will be available in silver, black, pink, violet and white for approximately $230. Features include:
• 16.2 MP "Exmor R" CMOS sensor, 3.0-inch 921k dot LCD touch screen
• 25mm equivalent lens with 5x optical zoom, 10x virtual zoom via "Clear Image Zoom" technology
• "Extra High Sensitivity" technology enhances low-light shooting capabilities
• Captures 12 MP equivalent still images while shooting video via "Dual-Record"
• Full HD Movie Shooting capability (1920×1080/60i) and Optical SteadyShot Active Mode
• 9 total "Picture Effects" options, allowing for creative, custom styled photographs
The DSC-WX50 camera will be available in silver and black for approximately $200. Features include:
• 16.2 MP "Exmor R" CMOS sensor, 2.7-inch LCD screen
• 25mm equivalent lens with 5x optical zoom, 10x virtual zoom via "Clear Image Zoom" technology
• "Extra High Sensitivity" technology enhances low-light shooting capabilities
• Captures 12 MP equivalent still images while shooting video via "Dual-Record"
• Full HD Movie Shooting capability (1920×1080/60i) and Optical SteadyShot Active Mode
• 9 total "Picture Effects" options, allowing for creative, custom styled photographs