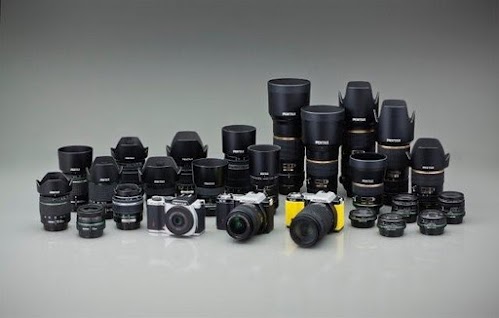 I have been reporting rumors about a second Pentax APS-C sensor mirrorless camera for almost a year now and today the K-01 is finally official. I am pretty sure that this camera was initially scheduled for a 2011 announcement, but Ricoh's acquisition of Pentax delayed the release.
Here is the B&H press release for the K-01, they already have listed the Pentax DA 40mm f/2.8 XS lens on their website: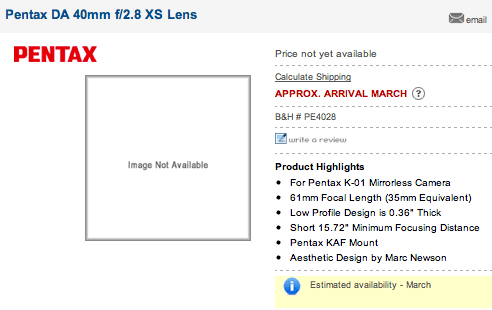 NYC, NY (PRWEB) February 02, 2012
B&H Photo Video is excited to announce the launch of the new and much anticipated Pentax K01 Camera.
The new Pentax K01 camera is a marvel of cutting edge technology with robust features and specifications, packaged in a gorgeous and durable aluminum frame styled by renowned designer Marc Newson.
One of the immediate highlights and benefits of this cameras mirrorless body design is its compatibility with all PENTAX K-mount lenses spanning decades. You won't have to worry and wonder whether an investment in a camera of this magnitude will force you to abandon some of your favored lenses. The fact is this camera was built to be compatible with your existing equipment.
The technical achievements of this camera are quite numerous and impressive.
In short; nothing was left to the imagination in the creation of the new PENTAX K01 camera. With its exceptional technical details and aesthetic appeal, this camera is sure to appeal to enthusiasts and professionals alike.
KEY FEATURES:
    Contemporary styling by world renowned designer Marc Newson
    Durable aluminum frame with stylish exterior in a selection of colors
    Mirorrless body design is compatible with PENTAX K-mount lenses.
    Exceptional 16 Megapixel APS-C sized CMOS image sensor with low noise image capture and multiple aspect ratios.
    Bright high resolution 3 inch LCD with 920,000 dots
    Full HD 1080p video capture at 30 FPS with h.264 compression (60 FPS at 720p) features outstanding video capture flexibility.
    Sensor-shift PENTAX Shake and Dust Reduction system is compatible with every mounted PENTAX lens.
    Fast 6 FPS burst mode is ideal for fast-action photography.
    Shutter speeds from 1/4000 to 30 seconds and bulb with a silent shutter action.
    Flexible ISO range of 100-25,600 ensures gorgeous noise-free imaging in any lighting environment.
    Shooting modes include P, Av,Tv, and M, as well as powerful automatic modes, creative filters and finishing options.
    Focus peaking mode provides fast and accurate manual focusing for critical focus applications.
    In-Camera HDR mode combines bracketed user-specified exposures into a single, perfectly blended still image.
    Built-in popup flash and external hotshoe compatible with modern PENTAX digital flash units.
    Captures JPG still images as well as open standard DNG RAW.
In addition and as a perfect complement to the PENTAX K01, is the new smc PENTAX DA 40mm Lens, dubbed the "World's thinnest interchangeable lens" at the time of its production!
This superb lens was styled by world famous designer Marc Newson and features an ultra low profile of only 0.36 inches in overall thickness and is only 1.8 oz in weight!
The maximum F2.8 aperture on this lens makes it ideal for creative depth of field applications and existing light photography. Furthermore, its nine rounded aperture blades produce extraordinarily smooth, natural bokeh.
ADDITIONAL KEY FEATURES:
    Fixed focal length 40mm prime lens is equivalent to 61mm in the 35mm format.
    Short 16 inch minimum focus distance
    PENTAX SP (Super Protect) coating on lens surface helps repel elements and aids in cleaning.
    PENTAX K mount is compatible with current and past K-mount compatible cameras.