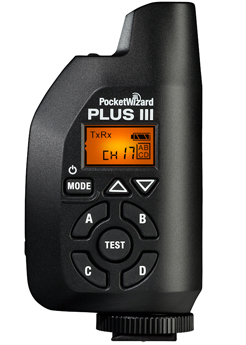 Today PocketWizard announced the previously leaked Plus III transceiver. For more info check this dedicated site and the latest Joe McNally's post. The price is $139.00 and is currently available for pre-order at B&H.
Press release:
LPA Design Announces New PocketWizard Plus III Transceiver
Easy-to-use, feature-packed radio trigger is ideal for any serious photographer
So. Burlington, VT – February 20, 2012 – LPA Design, manufacturers of PocketWizard Photo Products, the world leader in reliable wireless control of cameras, flash lighting and light meters, announces the new PocketWizard Plus III – a feature-packed, easy-to-use solution for remote flash and camera triggering. This new simple but powerful radio provides professional and serious amateur photographers with the most reliable triggering system which they will never outgrow and never want to be without.
"Our goals in designing the new Plus III were simple: It needed to do more, cost less and offer the same reliability and simplicity as the legendary Plus II. We believe the Plus III achieves all of this and more in its sleek new design," said Dave Schmidt, LPA Designs VP of Marketing. "Photographers need tools that will help them create images they couldn't before and with less hassle and lower cost. The Plus III is exactly that tool."
The new Plus III Transceiver features 32 channels and Selective Quad-Zone Triggering that enables photographers to remotely trigger flash and/or cameras in groups or individually all wirelessly from hundreds of feet away. Performance enhancing features include Long Range Mode and Repeater Mode to help photographers tackle the most challenging shooting environments and open the door for never-attempted image ideas. All features, channels and zones can be easily set using the soft-touch keypad and are clearly displayed on the backlit LCD display. *
The versatile new PocketWizard Plus III is compatible with all other PocketWizard radios and virtually every popular flash and professional digital SLR camera system. It also communicates with all PocketWizard-enabled photo gear including select Profoto, Dynalite, Norman and Photogenic flash systems and Sekonic light meters.
The new Plus III will be demonstrated at the PocketWizard WPPI 2012 Booth #621 in Las Vegas, NV, February 20-23, 2012 as well as in the JP Distribution booth at Focus on Imaging Show in Birmingham, UK, March 4-7, 2012.
* Please see PocketWizard PLUS III Features and Specifications documents for more information.