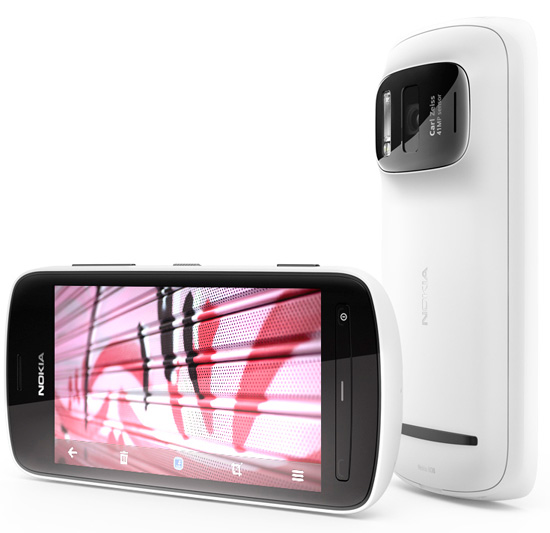 When Nokia's PR firm contacted me a week ago and sent me this teaser video, I decided not to publish it because I generally do not cover cell phones. Today I understood what the buzz was all about: Nokia announced their new 808 PureView phone with a ... 41MP camera, yes - a smart phone with a 41MP 1/1.2 inch sensor. You can download some sample images here (see also this gallery). Those are the camera related specs:
41 megapixel camera sensor with Nokia Pureview Pro imaging technology and Carl Zeiss optics
Fullscreen 16:9 viewfinder with easy on-screen touch controls
Xenon flash with operating range up to 3.5 m depending on conditions. Automatic fill-flash
LED for video recording
Focal length: 8.02 mm (35 mm equivalent focal length -26 mm, 16:9 / 28 mm, 4:3)
Auto focus and touch to focus
Focus modes: Hyperfocal, Macro, Infinity and Auto
Focus range: 15 cm ~ infinity
Macro focus 15-50 cm
F number/aperture: F2.4
Supported aspect ratios and resolutions True 16:9 (2 MP, 5 MP [Default], 8 MP, 41 MP) 4:3 (3 MP, 5 MP, 8 MP, 41 MP)
Three shooting modes: Auto, Scenes, Creative
Face detection software
Launch camera from lock with full press of capture key
Still images file format: JPEG/EXIF
Automatic location tagging (Geotagging) of images and videos
Automatic time and location marking for images and video in gallery
One touch access from camera to captured images
Images automatically taken in the correct orientation
Pinch zoom in Photos image viewer and double tapping
Integrated photo editor
16 GB internal user memory
Support for up to 48 GB with an external microSD memory card
High-Speed microUSB to PC connectivity
Press release:
Barcelona, Spain - Nokia today ushered in a new era in high-end smartphone imaging with the Nokia 808 PureView. This is the first smartphone to feature Nokia PureView imaging technologies, bringing together high resolution sensors, exclusive Carl Zeiss optics and Nokia developed algorithms, which will support new high-end imaging experiences for future Nokia products.
The Nokia 808 PureView features a large, high-resolution 41 megapixel sensor with high-performance Carl Zeiss optics and new pixel oversampling technology. At standard resolutions (2/3, 5 and 8 megapixels) this means the ability to zoom without loss of clarity and capture seven pixels of information, condensing into one pixel for the sharpest images imaginable. At high-resolution (38 megapixel maximum) it means the ability to capture an image, then zoom, reframe, crop and resize afterwards to expose previously unseen levels of details. With superior low-light performance and the ability to save in compact file sizes for sharing in email, MMS, and on social networks, the Nokia 808 PureView makes it possible for anyone to capture professional looking images in any conditions.

In addition to superior still imaging technology, the Nokia 808 PureView, also includes full HD 1080p video recording and playback with 4X lossless zoom and the world's first use of Nokia Rich Recording. Rich Recording enables audio recording at CD-like levels of quality, previously only possible with external microphones. The Nokia 808 PureView also features exclusive Dolby Headphone technology, transforming stereo content into a personal surround sound experience over any headphones and Dolby Digital Plus for 5.1 channel surround sound playback.

"Nokia PureView imaging technology sets a new industry standard by whatever measure you use," said Jo Harlow, executive vice president of Nokia Smart Devices. "People will inevitably focus on the 41 megapixel sensor, but the real quantum leap is how the pixels are used to deliver breath-taking image quality at any resolution and the freedom it provides to choose the story you want to tell."