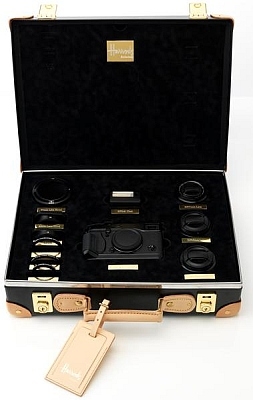 Own a Fuji X-Pro1 mirrorless camera system, want to travel in style and have £5695 ($9,000) to burn? Get this Globe-Trotter limited edition suitcase. From the press release:
Global digital camera brand Fujifilm is delighted to announce its partnership with luxury British luggage manufacturer, Globe-Trotter. The two companies have collaborated to create a limited edition, Vulcanised Fibreboard suitcase for the latest in Fujifilm's coveted X series, the much-anticipated X-Pro1. The 12 cases are launching exclusively at Harrods Technology.

The Vulcanised Fibreboard suitcase is handmade on original Victorian machinery at the Globe-Trotter factory in Broxbourne, Hertfordshire. Vulcan Fibre was invented in Britain in the 1850s and is formed from 14 layers of specially bonded paper, coloured to specification. The brass rivets and locks and tan leather trim contribute to its luxury aesthetic. The case is finished with an embossed leather 'Harrods Exclusively' tag and brass plaque. Each case has handcrafted compartments to house the X-Pro1, the flash, filter and the camera's three lenses and lens hoods: 18mm, 35mm and 60mm. The X-Pro1, the latest in X series range of Fujifilm cameras, is receiving phenomenal reviews for its image quality, versatility and cutting edge technology. Its retro styling is perfectly matched to Globe-Trotter's timeless aesthetic and craftsmanship.