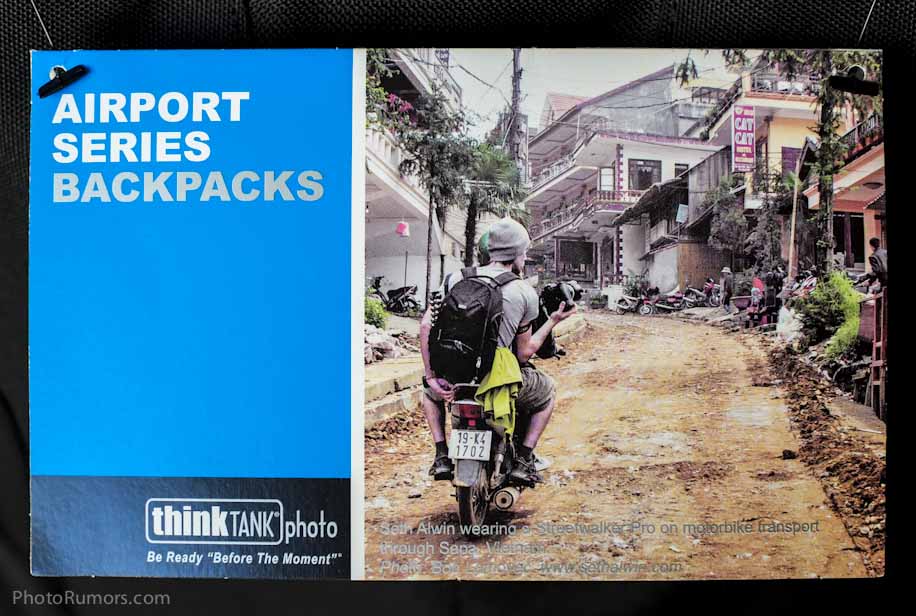 This is a quick hands-on of the new Think Tank Photo Airport Commuter backpack that got announced today:
The backpack includes straps that let you attach a tripod on the side and the standard rain cover (click on images for larger view):
Easy to access business card pouch on the top: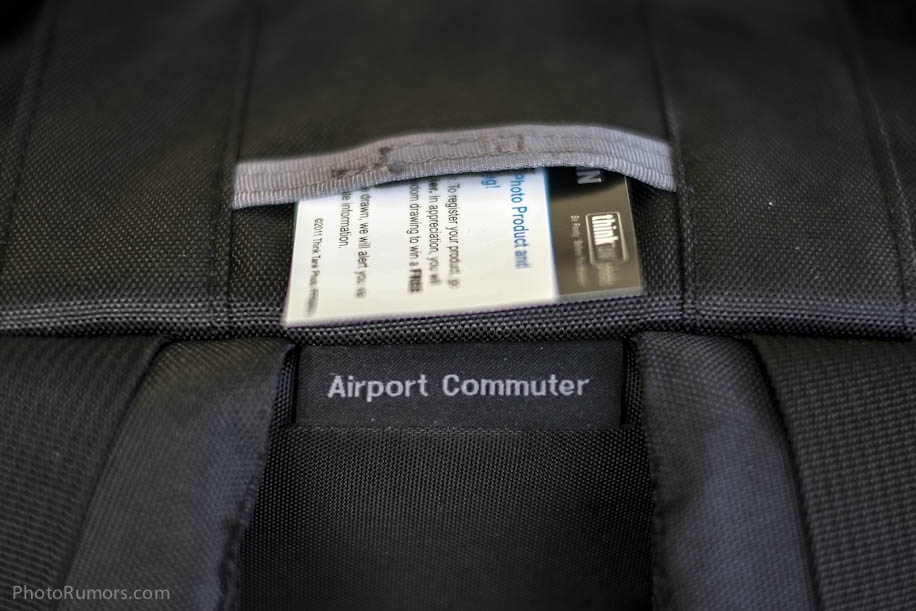 An additional top pocket with a zipper: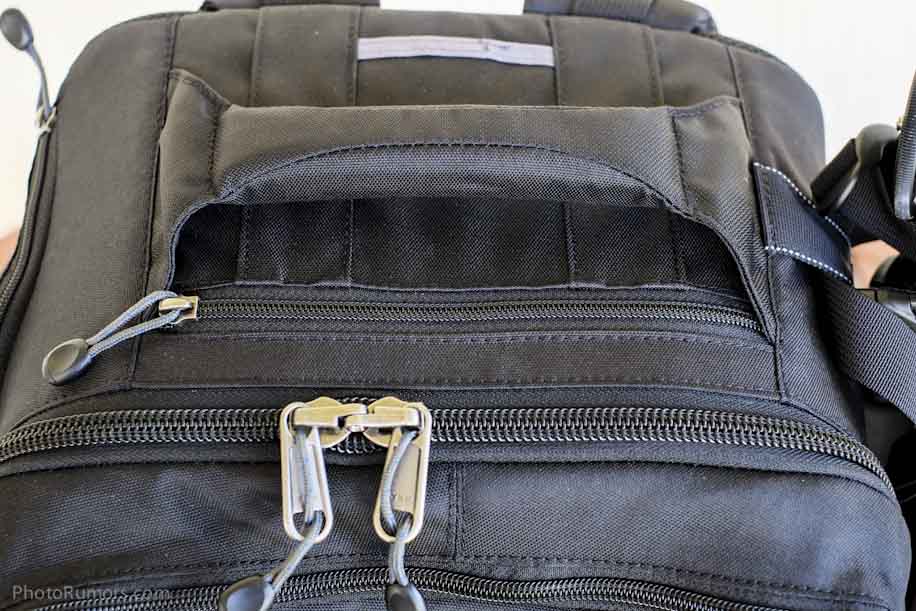 The Think Tank Photo Airport Commuter backpack also includes a cable lock that is stored in a side pocket: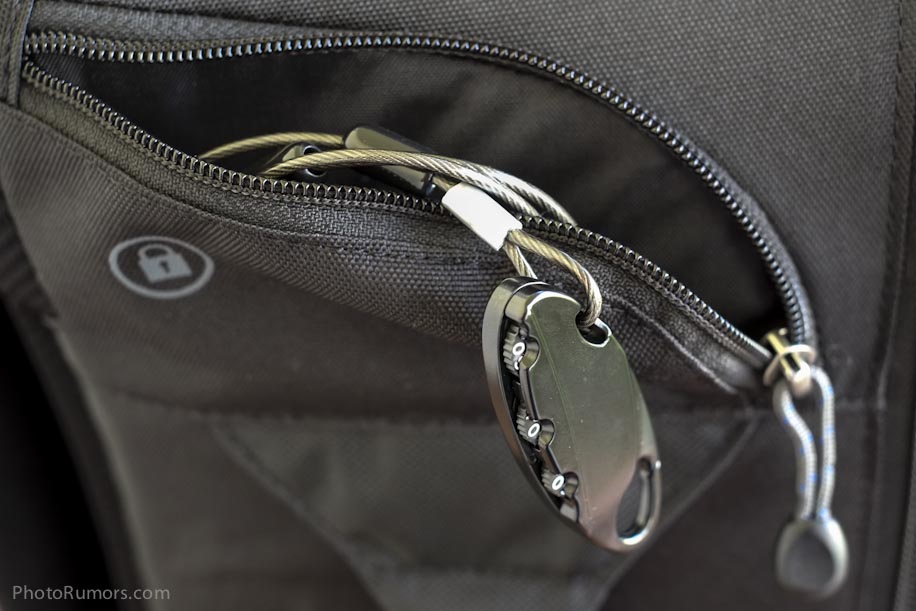 YKK zippers: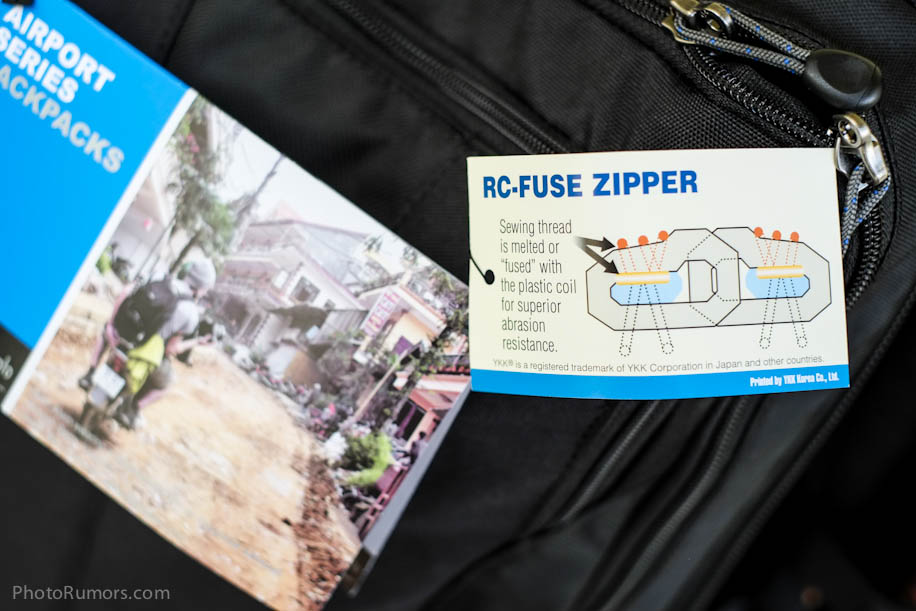 You can easily fit a 15″ Macbook Pro in the large front pocket: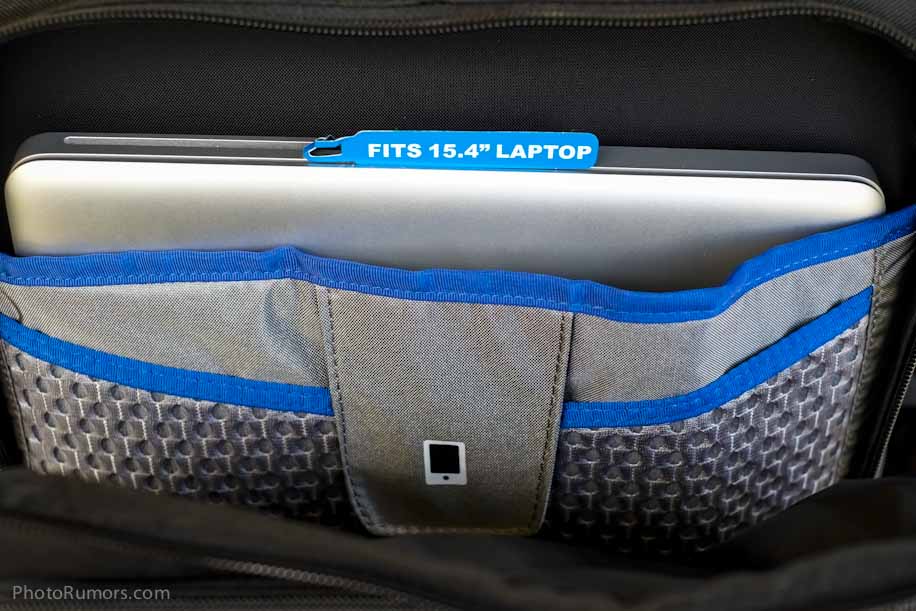 There is another smaller pocket on the front: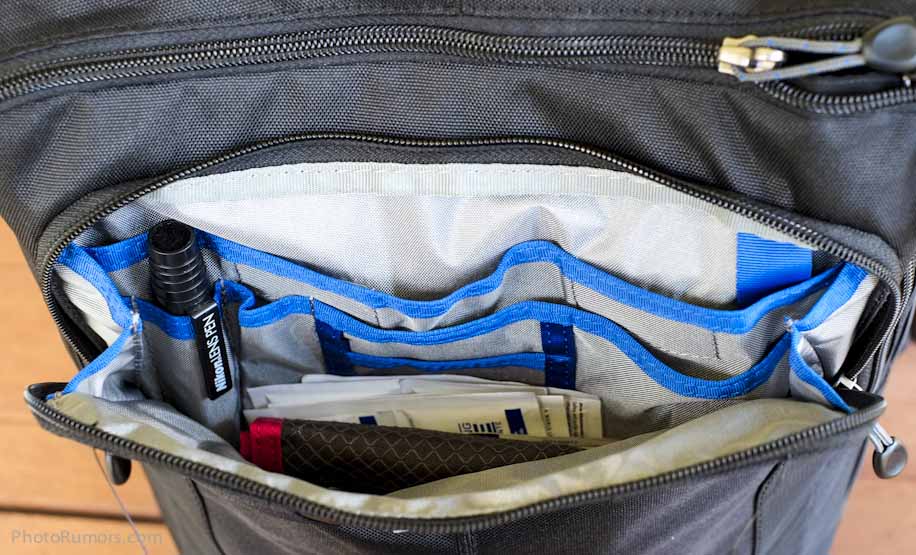 This is how the backpack looks on the inside – for reference, the lens on the bottom is a Nikkor 70-200mm f/2.8 VRII: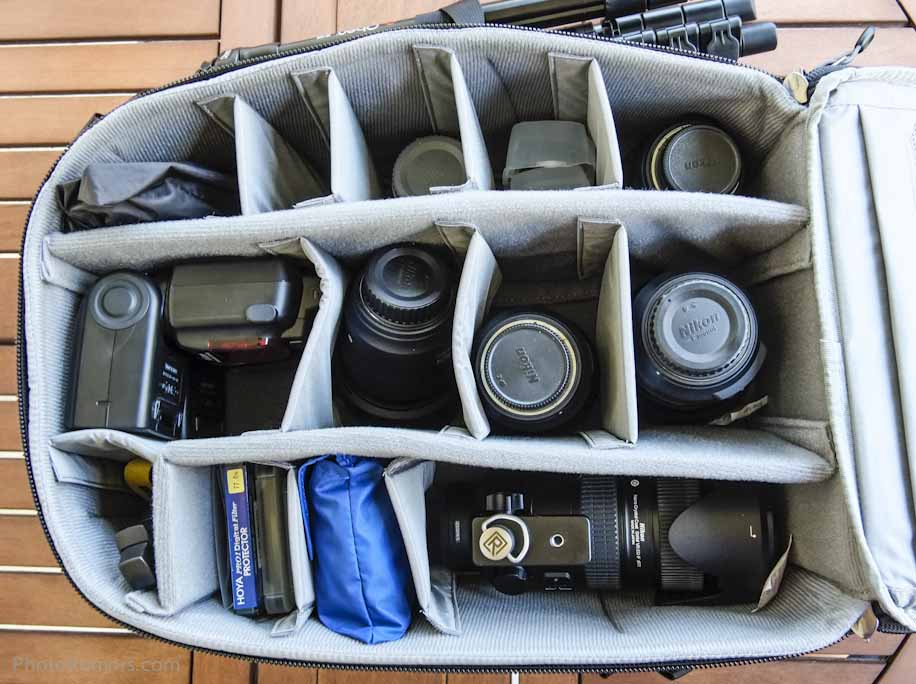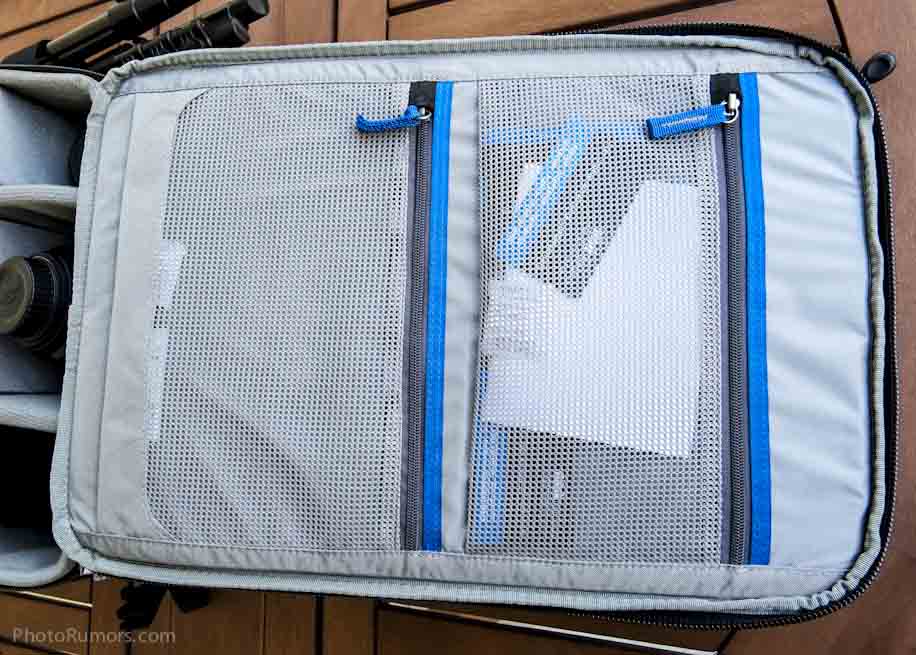 More details are available at thinktankphoto.com:
Features:

International and domestic carry-on size compatible
Cable lock & locking YKK zipper sliders for added security
Holds your laptop and iPad in a separate (locking) zippered compartment
Includes tripod/monopod mounting system
Bottom hinge opens bag completely for quick and unencumbered access
Light, comfortable and contoured harness system
Top zippered pocket for boarding pass
Removable waist belt for additional stability when walking, running, etc.
Adapts to Pro Speed Belt for additional support
Water bottle pocket
Ultra-Stretch pockets on shoulder straps (Airport Commuter & Airport Accelerator only)
Robust handles on three sides
Easily accessible front organizer pocket
Seam sealed rain cover included
YKK RC-Fuse zipper and highest quality materials throughout
*Check with your air carrier to confirm current size restrictions

Gear Profile:

Holds pro sized DSLR, 4-6 standard zooms, iPad and 15" laptop.
Accommodates a 400 f/2.8 attached to a camera body or a 500 f/4 unattached

Technical Specifications:

SKU: 87453000 486 5 • Part Number: 486
ED: 12.5" W x 18." H x 8.5" D (31.6 × 45.7 × 21.6cm)
ID: 11.5" W x 16.3" H x 6.8" D (29.2 × 42.4 × 17.3cm)
Laptop: 11" W x 16" H x 1.3" D (27 × 40 × 3.5cm)
Weight: 3.5-4.2lbs (1.5-1.9kg)
No Rhetoric Warranty Policy
Exterior – All fabric exterior treated with DWR while fabric underside is coated with PU for superior water resistance, YKK® RC Fuse (abrasion resistant) zippers, 1680D ballistic nylon bottom panel, 600D polyester, 420D velocity nylon, 3D air mesh, ultra stretch pockets, Y-buckles, antique nickel plated metal hardware, big hole air mesh, honeycomb mono mesh, nylon webbing, 3-ply bonded nylon thread.
Interior – Removable closed cell foam dividers, 210D silver-toned nylon, PU backed velex liner, 2x PU coated nylon 210T seam-sealed taffeta rain cover, belly-o mesh pockets, 3-ply bonded nylon thread.

Price: $199.75
Special offer from Think Tank Photo
When you order the Airport rollers this month, your can get the Artificial Intelligence laptop sleeves ($59 value) for free:
Think Tank Photo just announced a special deal on their popular rolling camera bags.  Order their Airport Security V2.0, Airport International V2.0, Airport Airstream, or Airport TakeOff rolling camera bags before May 31, 2012 and you will receive one of their Artificial IntelligenceV2.0 laptop sleeves for free!  This is a $59 value.
Their Airport rolling camera bags are considered the best designed, most durable in the industry.  Backed by Think Tank's "No Rhetoric Warranty" and great customer service, their rollers have traveled millions of miles and been used on every continent.
All of Think Tank's rollers are designed with the intention of helping you keep your bodies, lenses, and accessories near you at all times, even while flying.  Think Tank actually designs their rollers to comply with airline carry-on size requirements.
All of the rollers share three levels of security (TSA approved combination locks, front laptop cable and lock, and back cable and lock for securing entire bag to fixed object).  They employ the highest grade materials, including all fabric exterior treated with DWR (underside fabric underside is coated with PU for superior water resistance), 1680D ballistic nylon, abrasion resistant YKK® RC Fuse zippers, custom designed extra tall skid plates, replaceable in-line skate wheels, antique nickel plated metal hardware, nylon webbing,  and 3-ply bonded nylon thread.
Disclosure: Think Tank Photo is an affiliate sponsor of PhotoRumors.com.