Panasonic announced their new Lumix G Vario 12-35mm f/2.8 lens for Micro Four Thirds. This lens was initially displayed during CES 2012. Shipping will start in August. Pricing was not announced (Panasonic likes to announce their pricing few weeks prior to shipment).
Update: the lens is now listed on Amazon for $1,299.99.
Press release: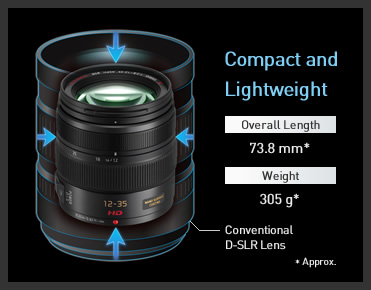 Panasonic's Premium LUMIX G X VARIO 12-35mm Lens Offers Exceptional Design, Achieving Increased Functionality for Spectacular Image Quality

SECAUCUS, N.J., May 21, 2012 /PRNewswire/ — Today, Panasonic announced a new digital interchangeable standard zoom lens, the LUMIX G X VARIO 12-35mm/F2.8 ASPH./POWER O.I.S. (H-HS12035).  The newest addition to the company's premium lens brand "X," which is compatible with the Panasonic LUMIX G Series and complies with the Micro Four Thirds™ system standard, this lens offers a versatile zoom range of 12-35mm (35mm camera equivalent: 24-70mm) and features constant F2.8 aperture brightness at entire zoom range.  Suitable for professionals and enthusiasts, this new lens captures a wide range of scenes from dynamic landscapes to available light and studio-lit portraits and features superb image rendering for lifelike textures and crisp edge-to-edge contrast.

The LUMIX G X VARIO 12-35mm/F2.8 ASPH./POWER O.I.S. lens incorporates Panasonic's unique Nano Surface Coating technology which minimizes reflections at entire visual range (380nm-780nm), resulting in a dramatic reduction of ghosts and flare for extremely clear picture quality.  The lens's newly integrated POWER O.I.S. (Optical Image Stabilizer) effectively compensates for both small, fast movement and large, slow movement, making it easy to shoot extremely clear photos even in low-lit situations such as at night or indoors.

Boasting outstanding compactness, the LUMIX G X VARIO 12-35mm/F2.8 ASPH./POWER O.I.S. lens is approximately 73.8mm in length and 10.76oz in weight, resulting in extreme mobility.  Additionally with a rubber ring on the lens mount, the new lens is designed to stand up against splash and dust making it ideal for outdoor photography enthusiasts. A highly reliable metal mount endures long time use.

The LUMIX G X VARIO 12-35mm/F2.8 ASPH./POWER O.I.S. lens system is comprised of 14 lenses in nine groups.  The UED (Ultra Extra-Low Dispersion) lens minimizes chromatic aberration while the UHR (Ultra High Refractive) lens realizes high descriptive performance from corner to corner.  Featuring high contrast and resolution from the center to corner at entire zoom range, the new LUMIX G X VARIO 12-35mm/F2.8 ASPH./POWER O.I.S. lens has the ability to capture the details of scenery or portrait with rich perspective.

The lens's superior inner focus system provides for excellent resolution and contrast without changing the overall length from full life-size magnification to infinity.  Seven blades give the aperture a rounded shape that produces an attractively smooth defocus effect in out-of-focus areas when shooting at larger aperture settings.  Adopting an inner focus system driven by a stepping motor, the lens's superior design provides smooth and near silent focusing action which is ideal for both picture and video recording. When the lens is mounted on any LUMIX G Micro System camera body, users can take advantage of the high-speed, high-precisions Contrast AF (Autofocus) system.

The Panasonic LUMIX G X VARIO 12-35mm/F2.8 ASPH./POWER O.I.S. (H-HS12035) lens will be available in August 2012 .  For more information about Panasonic LUMIX digital cameras and lenses, please visit www.panasonic.com/lumix.