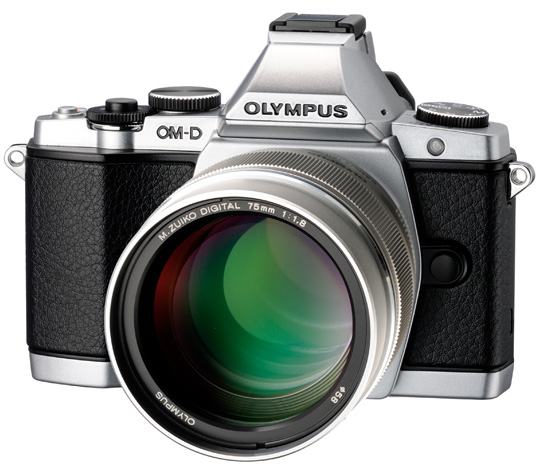 Olympus announced their Olympus M.ZUIKO DIGITAL ED 75mm f/1.8 portrait lens that looks exactly like the previously shown prototype. Expect the new lens to start shipping this summer for $900. See also the first sample images.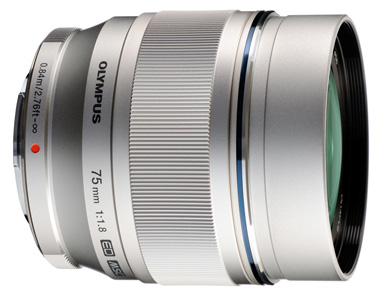 Main Specifications:
| | |
| --- | --- |
| Mount type | Micro Four Thirds System |
| Focal length | 75mm(35mm equivalence 150mm equivalent) |
| Lens construction | 9-group, 10 elements (ED element x 3, HR element x 2, etc.) |
| Angle of view | 16° |
| Closest focusing distance | 0.84 m |
| Maximum image magnification | 0.1X(35mm equivalent 0.2X equivalent) |
| Maximum field size | 130 x 173 mm |
| Number of blades | 9 blades (Circular diaphragm) |
| Maximum aperture | f1.8 |
| Minimum aperture | f22 |
| Filter size | Φ58 mm |
| Dimensions (Max. diameter x Overall length) | Φ64 x 69mm |
| Weight | 305 grams |
| Provided accessories | Lens cap (LC-58E), Lens rear cap (LR-2),Instruction manual, Olympus International Warranty Card |
Optional Accessories:
Product Name
MSRP
Launch Date
Metallic Lens Hood     LH-61F
10,000 yen
(10,500 yen incl. tax)
The middle of July, 2012
Metallic Lens Cap     LC-61
5,000 yen
(5,250 yen incl. tax)
Press release: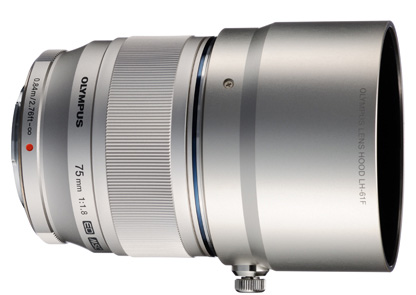 New M.ZUIKO DIGITAL™ ED 75mm f1.8 High-Grade Portrait Lens Enhances the Power, Performance and Versatility of Olympus OM-D and PEN® Compact System Cameras

CENTER VALLEY, Pa., May 24, 2012 – Today, Olympus adds to the Micro Four Thirds family of lenses with the release of the M.ZUIKO DIGITAL ED 75mm f1.8 High-Grade Portrait Lens (150mm equivalent), a high-speed, single-focal-length telephoto lens that is optimized for studio, stage, indoor sports and portrait photography, encased in a high-quality, compact, stunning metal body.

The M.ZUIKO DIGITAL ED 75mm f1.8's nine-blade circular aperture unit delivers beautiful defocused backgrounds, while the high-quality optical design keeps the subject in sharp focus. This is due to an advanced optical design that incorporates 10 lens elements in nine groups that make extensive use of special glass materials, including three ED (Extra-low Dispersion) elements to optimally correct aberrations. Each lens element is polished to an ultra-high level of working precision, only possible with the progressive techniques developed by Olympus master craftsmen, and carefully assembled to ensure maximum accuracy and reliability. Olympus's exclusive ZERO (ZUIKO Extra-low Reflection Optical Coating) lens coatings are applied to the elements to reduce reflectance to a level that is half that of conventional coatings.

With a total length of just 2.7 inches, the M.ZUIKO DIGITAL ED 75mm f1.8 is surprisingly small and maximizes the performance and portability of the Olympus PEN and OM-D compact system cameras. A textured metallic outer finish exudes quality and sophistication, while the large 50mm diameter glass front lens conveys a sense of power and performance.

Ideal for capturing brilliant still images and high-definition (HD) videos, the lens employs Olympus's proven MSC (Movie & Still Compatible) autofocusing mechanism featuring an inner focus system to drive this single-focal-length lens for fast and quiet focusing. A precision-touch metallic focus ring provides easy manual focusing.

The optional LH-61F Lens Hood and the LC-61 Lens Cap metallic lens accessories are designed exclusively for the M.ZUIKO DIGITAL ED 75mm f1.8. The LH-61F Lens Hood attaches with an outer friction knob system that allows attachment or removal even when the lens cap is attached.

U.S. Pricing and Availability
The Olympus M.ZUIKO DIGITAL ED 75mm f1.8 High-Grade Portrait Lens will be available in summer 2012.

Estimated Street Price: $899.99.