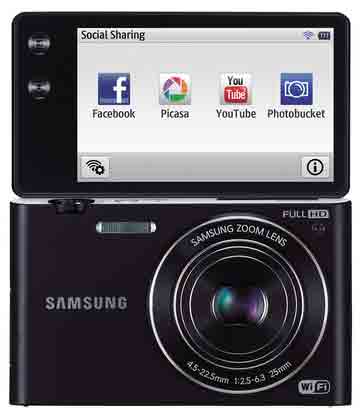 Samsung announced the MV900F – a new MultiView digital compact camera with a price tag of $349:
16Mp BSI CMOS Sensor
3.3″ WVGA AMOLED Touchscreen
Full HD 1920 x 1080 Video at 60 fps
Dual Capture Photo and Full HD Video
Self-Portrait Features & Shooting Modes
Integrated Wi-Fi & Direct Connect Button
Capture Images via Gesture or Remote VF
Social Media Sharing & Auto Backup
Easy Photo Editing In-Camera
Press release:
Samsung's MV900F Camera Delivers Beautiful Portraits from Any Angle, Plus Built-In Wi-Fi Sharing On-the-Go Easy
Stylish Design with MultiView Display, 3.3-inch Touch Screen Make Capturing High-Quality Images a Snap, or Thanks to New Gesture Control, a Wave
RIDGEFIELD PARK, N.J., July 18, 2012 – Samsung Electronics America Inc., a market leader and award-winning innovator in consumer electronics, today announced the availability of the MV900F, the latest digital camera to join the company's Wi-Fi enabled SMART line-up. Following the success of Samsung's MV800, the MV900F also features Samsung's innovative 180-degree MultiView display, making it easy to capture and share creative self-portraits from any angle. The MV900F's shooting flexibility does not end with its rotating display. With Samsung's unique Gesture Shot, which uses motion-sensing technology, users can zoom and snap a photo with simple hand motions from across the room.
Featuring advanced creative functionality and Samsung's Wi-Fi connectivity, the MV900F is a leader in the compact camera category. With an F2.5 bright lens to capture crisp, detailed photos even in low-lit environments, a powerful 16.3M pixels BSI CMOS sensor that produces high-quality photos and video, and a wider 25mm lens for fully framed images, the MV900F is a high-performing and versatile camera. The 5x optical zoom also makes it easy to shoot distance subjects.
"The MV900F's stylish design and incredibly bright and fast lens, makes it the ideal camera for a night out on the town – as it will capture fantastic videos and photos, even in dimly-lit places. Now more than ever, we want to share these experiences instantly with friends and family, so the MV900 will take images consumers will be proud to share using the camera's SMART Wi-Fi features," said Reid Sullivan, Senior Vice President of Mobile Entertainment, Samsung Electronics America. "The unique MultiView display, intuitive touch screen and cutting-edge SMART camera technology means that superior quality images can be captured from any angle and shared at any time."
Creatively Capture Group and Self-Portraits
The innovative 3.3-inch, 180-degree flip-out display on the MV900F helps shutterbugs easily capture and frame images from any angle, whether it's a large group of friends or a full-body self-portrait. Additionally, taking self-portraits or group shots are easy thanks to Samsung's unique Gesture Shot, which applies motion-sensing technology so that users can control the camera remotely using hand gestures alone. By simply making a circular hand motion, users can control the camera's zoom functions. When the shot is properly framed, users move their hand up and down to snap the photo.
Even when subjects aren't ready for their close-up, the MV900F has a range of functions to easily create professional beauty shots. With Samsung's new Beauty Palette feature, users can choose from ten different make-up options to smooth, brighten and add color to profile shots directly in the camera. No computer needed – all the editing is done using the intuitive touch screen display.
Designed for All Lighting Conditions
The 16.3-megapixel BSI CMOS sensor and brighter F2.5 lens help deliver top-notch image quality even in low-light situations without the typical bleaching effect of artificial light. The Low Light Shot mode automatically selects the camera's best setting when shooting in low light conditions. By taking three continuous shots and merging them together into one, this feature helps to create an image without the blurs and noise. In addition to low-light settings, the MV900F is also designed for ease of use in the brightest sunlight. The upgraded display boasts a 3.3-inch WVGA AMOLED touch display for seeing clearer images even in intense light.
Instant Sharing without Compromise
The first camera in the MultiView line to incorporate Wi-Fi technology, the MV900F instantly connects with Facebook, Picasa, Photobucket and YouTube and devices without the need for pesky wires or cables. At the touch of the SMART LINK button, or through the easily navigated touch screen, it is easier than ever to instantly share and securely store pictures. The MV900F seamlessly interfaces with Samsung's line of SMART televisions, Blu-ray players, mobile PCs and smartphones for a truly unique and integrated ecosystem with painless sharing and synching across all devices.
Create, Play and Share with Added Creative Options
Boasting 1920×1080 Full HD video recording at 30fps, the MV900F creates high-quality movies that users would be proud to share. Combining the best of still photography with dynamic videos, the Motion Photo feature cleverly brings subjects to life while everything else in the background appears at a standstill. Thanks to Wi-Fi connectivity, video masterpieces can be uploaded to YouTube in no time.
Pricing and Availability
Available in sophisticated white and black models, the MV900F will be available in late August from authorized Samsung retailers for $349.99 MSRP. For more information on the MV900F, please visit www.samsung.com.