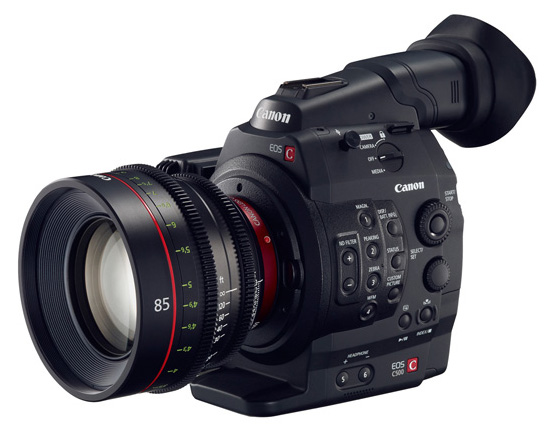 Canon announced two professional digital cameras and four new cinema lenses:
Canon EOS C500 digital cinema camera with EF lens mount (check for pricing)
4K RAW (4096 x 2160) Output
EF Lens Mount for Broad Compatibility
8.8 Mp Super 35mm-Size CMOS Sensor
Also Puts Out 2K, Quad HD & Full HD
2x 3G-SDI Outputs
50 Mb/s Proxy HD Recording to CF Card
10-Bit 4K RAW at Up to 60p
10-Bit 4K Half RAW at Up to 120p
12-Bit 2K 4:4:4 Signal at Up to 60p
Canon Log Gamma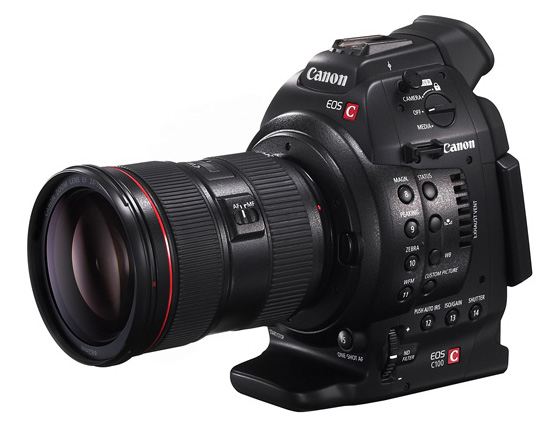 Canon EOS C100 digital cinema camera with EF lens mount (check for pricing)
Super 35mm 8.3MP CMOS Sensor
EF Lens Mount with EF Contacts
HDMI Outputs a Non-Compression Signal
Dual SDHC/SDXC Memory Card Slots
ISO 320 and up to ISO 20000
Wide DR and Canon Log Gamma
Reduced Rolling Shutter Skews
Built-in ND Filters with Manual Controls
Two XLR Audio Connectors
Peripheral Illumination Correction
Canon U.S.A. Aims To Expand The Cinema EOS System With The Development Of New EF Cinema Prime Lenses
LAKE SUCCESS, N.Y., August 29, 2012 – Further contributing to the evolution of the motion picture industry, Canon U.S.A., Inc., a leader in digital imaging solutions, today announced the development of two new cinema prime lenses, the 14mm T3.1 cinema prime lens and 135mm T2.2 cinema prime lens, adding to the Cinema EOS lineup consisted of 11 EF Cinema Lenses.
Both the 14mm T3.1 and 135mm T2.2 cinema prime lenses will be engineered for exceptional optical performance for Canon's latest large-format single-sensor 4K and 2K digital cinematography cameras. As part of the Cinema EOS System, the lenses will be compatible with standard sensor sizes including Super 35mm, the standard format in the motion picture industry, as well as HD-compatible EOS Digital SLR cameras using 35mm full frame, APS-H and APS-C image sensors.
"In November of 2011, Canon pledged to offer high-end professional solutions to filmmakers, cinematographers, and television production professionals. Our pledge included a commitment to this industry and a promise of future product development and solutions to meet industry needs. Today's announcements prove that we intend to deliver on that pledge," stated Yuichi Ishizuka, executive vice president and general manager, Imaging Technologies & Communications Group, Canon U.S.A.
The 14mm T3.1 and 135mm T2.2 EF cinema prime lenses are expected to be available in the first half of 2013, and will be showcased from September 6 – 11, 2012 at IBC2012 in Amsterdam.
Main Features: CN-E15.5–47mm T2.8 L S/SP and CN-E30–105mm T2.8 L S/SP
1. High optical performance for use with 4K-resolution cameras
Supports 4K (4096 x 2160 pixels) production standards, with a level of resolution exceeding four times the resolution of Full HD.
Offers compatibility with industry-standard Super 35 mm-equivalent image format as well as APS-C-size sensors.i
The optimal placement of low-refraction, low-dispersion UD (ultra-low dispersion) glass corrects for axial and lateral chromatic aberrations to realize exceptional imaging performance without color blurring.
With a T-number of 2.8, the new lens lineup offers bright performance and, with no changes in brightness during zooming, enables the use of attractive blur effects when employing a shallow depth of field.
Each lens is equipped with an 11-blade aperture diaphragm for soft, attractive blur characteristics.
The lenses minimize focus-induced changes in the angle of view and, through the latest advances in anti-reflective coating and related technologies, reduce the occurrence of ghosting and flare.
2. Broad focal-length coverage despite compact, lightweight design
Designed with hand-held shooting in mind, each lens weighs just approximately 2.2 kg, less than half the weight of the top-end zoom lens models that went on sale earlier this year.
Combining the wide-angle and telephoto zoom lenses as a set enables users to cover a wide focal length range, from 15.5 mm (wide-angle end) to 105 mm (telephoto end).
Because the lenses provide a long focal length at the telephoto end, they enable the magnification of scenes shot from a distance and the use of attractive blur effects when employing a shallow depth of field.
3. Designed to deliver high operability
With a focus rotation angle of approximately 300 degrees, the lenses facilitate precise focusing performance.
Zoom, focus and iris markings all appear on angled surfaces for improved readability from behind the camera.
Features a unified front lens diameter and uniform gear positions, doing away with the need to adjust or reposition accessory gear when switching between the two lenses.
By removing the cover ring, users can easily perform flange-back adjustment.
4. Functionality to realize increased shooting convenience
The new lenses can be used with matte boxes and other standard manual and electronic movie industry accessories widely used in the motion picture production.
Each lens offers a reduced minimum object distance (0.5 m for the CN-E15.5-47mm T2.8 L S/SP and 0.6 m for the CN-E30-105mm T2.8 L S/SP) that makes possible tighter close-ups and facilitates shooting in limited-space environments.
The EF-mount version lenses, when combined with Cinema EOS System cameras, support lens-camera communication enabling the recording of zoom and other settings along with video data, making possible the effective management of shooting conditions. Additionally, a future camera firmware update (release date to be decided) will enable automatic image correction along with other benefits.