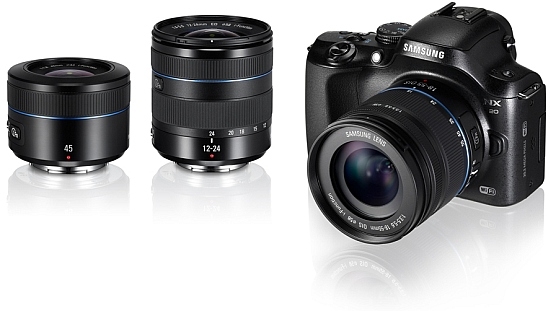 Samsung announced two new lenses for their NX system: 12-24mm f/4-5.6 ED and 45mm f/1.8.
Press release:
New ultra-wide zoom and mid-telephoto prime lenses allow professional quality imagery
London, UK – September 17, 2012 – The new lenses join the NX family, giving camera-lovers the chance to maximise their creative potential whilst keeping their system light and portable. The 12-24mm F4-5.6 ED ultra-wide zoom lens and 45mm F1.8 mid-telephoto prime lens are amongst the lightest lenses on the market, coupling portability with smooth ease-of-use to allow for effortless creative expression.
The new lenses bring superior innovation to the award-winning NX camera series and are compatible with Samsung's i-Function system, which allows the user to achieve professional results through an innovative control system. The new 12-24mm F4-5.6 ED (equivalent to 18.5-37mm in 35mm format) and 45mm F1.8 (equivalent to 69.3mm in 35mm format) lenses now means there are eleven top of the range lenses available for the NX system.
Samsung NX Lens 12-24mm F4-5.6 ED: Thanks to its ultra-wide angle, this lens creates both dramatic landscapes and also facilitates shooting in confined interior spaces. At 208g, it also remains compact and light for easy portability and excellent usability for travel photography. The image quality is heightened by one extra low dispersion glass lens and two aspherical glass lenses that guarantee superb sharpness and low chromatic aberration.
Samsung NX Lens 45mm F1.8: This mid-telephoto prime lens delivers a pro-standard shallow depth of field with background blur, creating stunning portrait images or pictures of your favourite food, complete with beautiful bokeh. The bright F1.8 aperture allows for quick image taking that performs brilliantly for night-time or indoor shooting, with a stepping motor for a fast and super-quiet Auto Focus. Weighing 115g (without the hood), it combines lightweight portability with a solid metal body and metal mount for an ultra-professional look and feel.