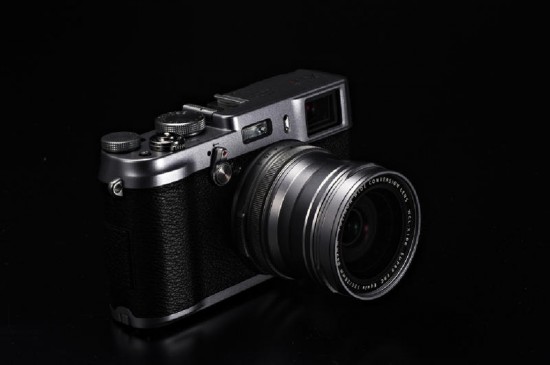 Fujifilm UK published a list of 69 improvements introduced in the X100s over the previous model. One more difference not mentioned on the list: $100 price increase for the X100s. The list of X20 improvements can be found here.
Here's a complete list of all 69 improvements the X100S has over the X100:
1. 16-megapixel sensor, up from 12-megapixel.
2. X-Trans CMOS II sensor eliminates need for Optical Low Pass Filter.
2. The resolution has improved to match Full Frame domain sensors.
3. The Signal to Noise ratio improved to be on a par with Full Frame domain sensors.
4. Phase detection pixels allow 0.07 sec Auto focus.
6. 1080p 60fps full HD movie.
7. Improved start-up time. From 2.0sec to 0.9sec.
8. Continuous Shooting from 5fps up to 6fps.
9. Number of consecutive frames while using Continuous Shooting from 10 frames to 31 frames.
10. Improved Shooting Interval from 0.9 seconds down to 0.5 seconds.
11. EXR Processor II Lens Modulation Optimiser reduces diffraction phenomenon and peripheral aberrations.
12. EXR Processor II features X-Trans processing & new noise reduction.
13. Outputs 14bit RAW files.
14. EVF has a 2.35 mil dot LCD.
15. A new protective coating on the surface of the view-finder window prevents fingerprints and smudging.
16. The handling and response on focus ring has been improved.
17. The shooting range of the OVF has been expanded from 80cm-∞ to 50cm-∞.
18. The world's first MF system 'Digital Split Image'.  It uses the phase detection to show accurate focus peaking. See demo:
19. 'Focus Peak Highlight' function helps you to check the focal plane. See demo:
20. In Movie Shooting, it is possible to choose 3 kinds of focusing modes MF/ AF-C and AF-S.
21. Expanded AF shooting range from  40cm – infinity (X100) to 21cm – infinity (X100S). *not on Macro mode.
22. Quick (Q) Button for speed and instant access to shooting menus.
23. Multi Tab Menu easy and fast navigation.
24. Two new Film simulation functions added: Pro Neg.Std and Pro Neg. Hi.
25. 'F-simulation bracketing' function – one shot can produce 3 different Film Simulation images which can be pre-set.
26. 'Advanced filter' mode.
27. 'Multi Exposure' function. While viewing your first shot on EVF or LCD as overlay, you can shoot a second shot.
28. 'Shutter Counter' counts every 100 shots.
29. The shape of viewfinder window changed to help prevent dust build-up.
30. The strap attachment rings are double coated with stainless-steel layer.
31. Improved the shape of 'Viewfinder lever'.
32. Improved the layout of 'Focus lever' (goes MF > AF-C > AF-S now).
33. Improved the operability of the 'MENU/OK button'.
34. Improved shape of the 'Q button' (was previously the RAW button).
35. Improved the shape of 'Front Ring'.
36. Improved the torque of  'Exposure dial'.
37. Improved layout of 'Shutter speed dial'.
38. Improved the design of Battery-chamber.
39. Improved the shape of Hot shoe.
40. Max ISO from 3200 to 6400 *ISO AUTO Mode.
41. WB shift available in any mode.
42. Variation of aspect ratio 3:2, 16:9, and 1:1.
43. Improved functionality in MF mode.
44. Able to reset the setting separately.
45. No formatting on the setting when updating FW.
46. Change the default LCD information setting -> standard.
47. Reset function added for every custom mode.
48. Information of all F-simulation modes.
49. Add 'MARK FOR UPLOAD TO' MyFinePix.com.
50. Support 'Eyefi Connected'.
51. Holding Q-button is short-cut function.
52. Remove 'ISO AUTO' to Shooting Menu.
53. Change the location of 'AF area select button'.
54. Change the sub-function of  'AF area select button'.
55. Change the sub-function of 'AE button'.
56. Add the sub-function of 'Fn button'.
57. In Playback mode, add the 'Information function'.
58. In low light scene, LCD display becomes smooth.
59. After release the shutter button, immediately switch to playback mode.
60. After release the shutter button, could immediately use some key.
61. After bracket shooting,immediately switch to palyback mode.
62. When holding shutter button, LCD doesn't freeze.
63. Support the SD-card used Macintosh.
64. In low EV scene, the exposure of LCD will adapt.
65. In Manual Exposure, the histogram will adapt.
66. In Post-viewing, eye sensor function can work.
67. Support external microphone and electric release.
68. Change the information of  setting external Flash.
69. The ND filter is now available in panorama mode.