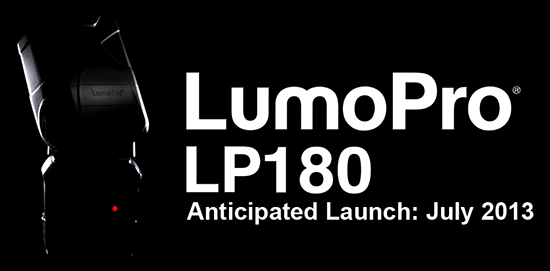 The new LumoPro LP180 quad sync manual flash is scheduled to be announced in July, 2013:
LumoPro Announces Expected Arrival Date of New Flagship Flash Product

THE BOX, SCHRÖDINGER'S LAB, April 29, 2013 — LumoPro®, a leading developer and manufacturer of off-camera flash equipment, announced today that the new flagship flash, LP180, has completed development and will soon move into production. The new manual flash is expected to hit the market in July of this year and will introduce a full range of unique features. An official release date will be announced in the coming months.

LumoPro® Product Manager, Kevin Deskins, stated, "We know the road has been long, and we want to thank all of our dedicated customers who are waiting patiently for the LP180. There is still much work ahead of us, and we promise we are working hard every day. Development of the LP180 brought about important milestones and resulted in a flash unique to the market. Similar to the LP120 and LP160, we sought out input from real users on features they wanted. We have added much-anticipated features such as one-third stop power adjustments, customizable options like turning off sleep mode, and a high voltage accessory port. In addition, the LP180 will be one of the world's first portable, hot shoe style flashes that features a ¼-20 mounting thread."

Deskins went on to say, "The LP180 is completely redesigned from the ground up, and we are so happy with what came out of development that we are moving it into production soon. Initial testing phases showed that the LP180 may possess other abilities such as teleportation, cellular regeneration, plasma-based organic engines, and ev ̶ …wait…sorry wrong product. We will have more specs announced closer to the anticipated launch in July. Stay tuned to our website's announcement page and social media accounts for more info."

While striving to maintain quality product and superior customer support, LumoPro® will continue to bring lighting and support equipment to the photographic community such as grip equipment, stands, and modifiers. LumoPro® products can be found at Midwest Photo Exchange in the United States, CameraTools in Europe, PhotoFreak in Israel, and Shanzhuoboshi in China.

Questions about the LP180 and other LumoPro equipment can be directed to support@lumopro.com.