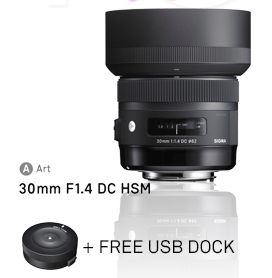 Free Sigma USB dock offer in the UK:
Sigma Imaging UK is offering a FREE Sigma USB Dock for all new purchases of 30mm F1.4 DC HSM | A . The promotion is effective from 1st December 2013 up to 31st January 2014. Terms & conditions apply to this offer and claims must be received by February 28, 2014 in order to qualify for the cashback

The Sigma 30mm F1.4 DC HSM | A, standard lens offers the highest level of image quality in a large-aperture F1.4 and has an angle of view equivalent to 45mm on a 35mm camera. It is a superb go-to lens for artistic photography when used on an APS-C format digital SLR and is ideal for photographers interested in creating beautiful bokeh for snap shots, portraits and landscapes. The Sigma 30mm F1.4 DC HSM | A, is part of the growing line of Art lenses incorporated in Sigma's Global Vision campaign and with the use of the Sigma USB Dock, photographers are able to complete their own updates to the lens firmware as well as make adjustments to focus parameters, giving them more creative freedom.
For application form and complete list of details, please click this link.
Check Sigma prices and availability on Amazon UK and Jessops.