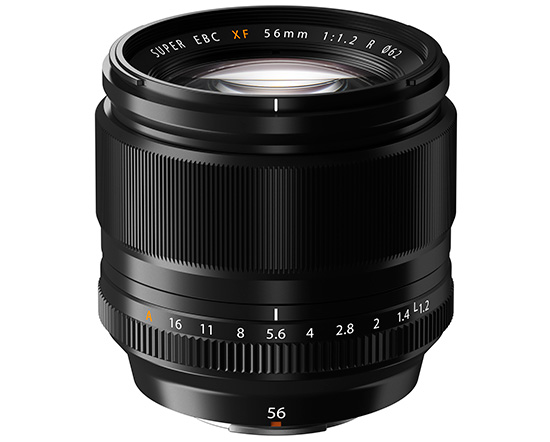 Fujifilm announced another X-mount lens: Fujinon XF 56mm f/1.2 R lens. Priced at $999, the lens will start shipping next month (Amazon list the shipping date as April 6th). Additional information: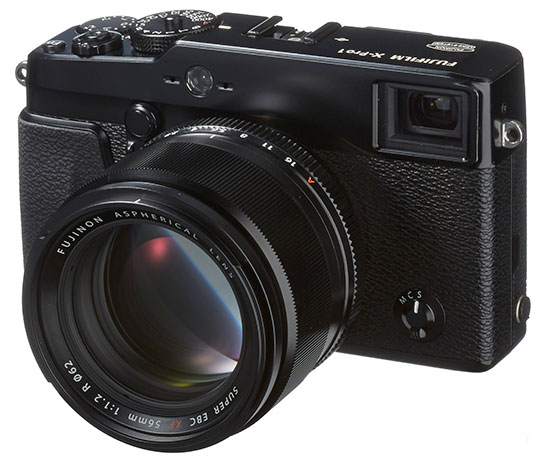 MTF chart

Specifications
Type
XF56mmF1.2 R
Lens configuration
11 elements in 8 groups
(includes 1 aspherical and 2 extra low dispersion elements)
Focal length
(35mm format equivalent)
f=56mm
(85mm)
Angle of view
28.5°
Max. aperture
F1.2
Min. aperture
F16
Aperture control

Number of blades

7 (rounded diaphragm opening)

Step size

1/3 EV (23 steps)

* 1/2 EV, from max. aperture to next step, only.

Focus range

Normal

0.7m – ∞

Macro

0.7m – 3m

Max. magnification
0.09x
External dimensions : Diameter x Length* (approx.)
*distance from camera lens mount flange
ø73.2mm x 69.7mm
Weight* (approx.)
*excluding caps and hoods
405g
Filter size
ø62mm
Press release
Valhalla, N.Y., January 6, 2014 – FUJIFILM North America Corporation today announced the new FUJINON XF56mmF1.2 R, a premium portrait lens with an 85mm*1 equivalent that fits all FUJIFILM X-Series interchangeable lens cameras.
The FUJINON XF56mmF1.2 R is lightweight and less than half the size of an equivalent full-frame camera lens*2 for easy, comfortable use. The XF56mmF1.2 R also has a metal aperture ring for a premium quality feel and offers incredible speed and silence in the studio, perfect for the professional portrait photographer.The aperture ring on the XF56mmF1.2 R is designed to give users a satisfying 'click' between f-stops,with a perfectly torqued focusing ring for precise adjustments.
The FUJINON XF56mmF1.2 R lens has a new optical design that features 11 elements in 8 groups, and includes two ED (extra low-dispersion) elements and one double-sided aspherical element, plus four elements with a convex surface facing the subject, which combine to reduce spherical and chromatic aberrations for superior images.
FUJINON XF56mmF1.2 R
FUJIFILM X-Mount is compatible with all FUJIFILM interchangeable system cameras
HT-EBC*3 multi-layer coating to minimize ghosting and flare
Additional newly-developed coating added to the reverse side of the front lens to further reduce the ghosting that typically occurs when using deep concave lenses
Enhanced resolving power at all apertures when used with an X-series camera*4 that incorporates a Lens Modulation Optimizer (LMO) function
Seven-blade aperture diaphragm that helps create smooth and round bokeh effects
Minimum working distance of 70cm
Inner focusing system that moves small elements in the middle or at the rear of the lens, while keeping the large, front elements stationery for high-speed AF
The FUJINON XF56mmF1.2 R lens will be available in February 2014 for $999.95.
The current Fujifilm lens family includes the following FUJINON XF and XC lenses:
XF 14mm F2.8
XF 18mm F2.0
XF 23mm F1.4
XF 27mm F2.8
XF 35mm F1.4
XF 60mm F2.4
XF 10-24mmF4 R OIS (March 2014)
XF 18-55mm F2.8-4.0 OIS
XF 55-200mm F3.5-4.8 OIS
XC50-230mm F4.5-6.7 OIS
XC 16-50mm F3.5-5.6 OIS
*1 35mm format equivalent
*2 According to Fujifilm data
*3 High Transmittance Electron Beam Coating
*4 As of December 2013 "FUJIFILM X-E2"