Sony officially announced the Alpha a77 Mark II translucent mirror camera. The price will be $1,198 for camera body and $1,798 for a kit with the 16-50mm/2.8 lens. Shipping will start on June 10th. Here are the main a77M2 features: World's fastest continuous shooting speed up to 12 fps
The α77II has the world's fastest continuous shooting speed in its class1—up to 12 frames per second at full resolution. Equipped with a 79 point AF sensor and advanced auto focus tracking, technology, you never have to miss a moment. The α77II outperforms even more expensive rivals with continuous auto focus and auto exposure when shooting at 12fps at full 24.3MP resolution and can capture up to 60 frames in a single burst when in JPEG fine setting.
World's most AF points: 79-point Phase Detection AF system*
The α77II is equipped with a newly developed phase detection auto focus system, featuring wide coverage 79 AF points. Fifteen of the AF points are cross-type and placed in the most-frequently-used central area of the sensor. This helps the α77II achieve accurate focusing even with horizontally striped subjects, which line-type AF points typically find challenging. The new AF system also performs well in low-light conditions—as low as EV -2 (ISO 100), which is similar to a moonlit night under which objects are difficult to see even with the naked eye. The new AF algorithm instantly recognizes and reliably tracks the desired subject. The α77II also realizes impressive focusing accuracy, even when a large-aperture lens is mounted, thanks to the f/2.8 AF point placed horizontally in the center of the AF sensor overlapping another AF point.
*Among interchangeable-lens digital cameras equipped with a dedicated phase-detection AF sensor as of May 1, 2014.
24.3MP Exmor® CMOS sensor
The α77II houses a large APS-C sensor with approx. 24.3 effective megapixels for incredible detail and gorgeous enlargements. Its high resolving power adopts the same gapless on-chip lens structure as the α7R and features the latest-generation RGB color filter and other cutting-edge device technologies developed by Sony, the number 1 manufacturer of image sensors. The α77II's image sensor exhibits approximately 20% higher sensitivity and lower noise levels compared to the α77 throughout a wide sensitivity range of ISO 100 to 25,600.
Advanced BIONZ® X image processing
The α77II is equipped with the same BIONZ® X image processing engine as on the top-of-the-line full-frame models—α7 and α7R. This engine achieves approximately three times the processing speed of previous BIONZ and features all the latest image processing technologies, which are optimized for this model. The result is astonishingly high-speed processing capabilities as well as faithfully reproduced textures and amazing definition.
Detail reproduction technology
Strong outlines a common characteristic of digital images, are minimized as much as possible to achieve finely detailed images with a natural three-dimensional appearance and naturally depicts subjects as seen by human vision. This increases the ability to depict detailed textures and brings photography another step closer to creating totally realistic, high-quality images.
Diffraction-Reducing Technology
Diffraction-reducing technology maximizes the optical performance of lenses and produces finer details when shooting with a small aperture setting. Optimal filter processing—that best matches the f-number—is applied to correct image points that are blurred, preventing diffraction effects that become an issue when shooting with a deep depth of field and high pixel count. You can therefore depend on finely detailed images even when shooting with a small aperture setting.
Max ISO 25,600
The α77II has a wide sensitivity range of ISO 100 to 25,600 for faster shutter speeds and low-light shooting situations. Combined with detail reproduction technology, area-specific noise reduction effectively suppresses noise and realize high-sensitivity images resulting in fine details and less grain from corner to corner.
Smartphone sharing with build-in Wi-Fi and NFC
Connectivity with smartphones has been simplified with Wi-Fi® and NFC control for one-touch sharing. Simply tap the camera to another NFC-enabled device like a tablet or smartphone and photos are transferred with just one touch. Users need only touch devices to connect; no complex set-up is required. Moreover, when using Smart Remote Control, the camera's shutter can be conveniently controlled by your smartphone's touchscreen.
Full HD Movie 1080/60p/60i/24p video recording
Take full control when you shoot HD movies and enjoy the full expressive potential of Program, Shutter Priority, Aperture Priority or Manual (P/A/S/M) control in HD movie mode. Capture spectacular HD movies in your choice of super-smooth 60p, standard 60i or cinematic 24p, all at Full HD 1920×1080 resolution. AVCHD™ codec delivers stunning picture quality. MP4 codec offers smaller files for easier upload to the web. You also have the option of capturing uncompressed HD to an optional external recorder for super high bitrate via the clean HDMI® output.
Weather-resistant magnesium alloy body
The α77II is a high-quality, high-precision shooting tool built for the real world with a rugged magnesium alloy body that combines high strength with light weight. Sealing around the main buttons, dials, ports and doors are weather-resistant with a double-layered structure that enhances sealing effectiveness at all camera body openings including the media compartment and terminal area. The same high-level resistance to dust and moisture is maintained even when the camera is mounted with the 16-50mm F2.8 (SAL1650) zoom lens, VG-C77AM vertical shooting grip or HVL-F60M flash.
EVF – XGA OLED Tru-Finder
There's never been anything quite like the OLED Tru-Finder™ electronic viewfinder. For size, speed and brightness even after sunset, this is a gem. It begins with 2,359,296 dots for amazing resolution and high contrast ratio for incredible depth and shows 100% frame coverage. OLED reduces motion blur to a bare minimum. You can also see the results of camera adjustments in real time with superb color and detail, including the ability to display the effects of various camera settings, the use of MF Assist and a peaking function for fine-tuning the focus.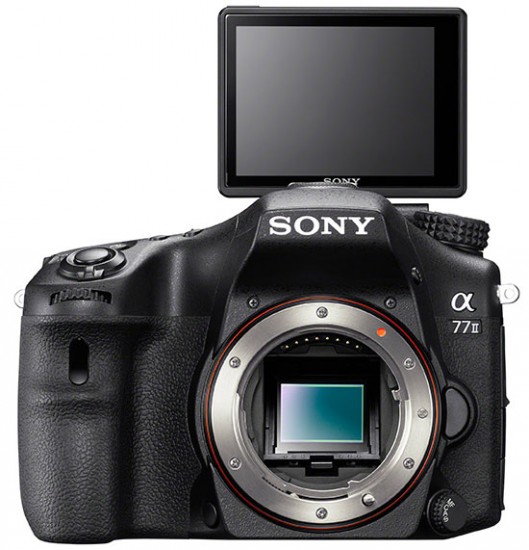 Three-way Tilt and Swivel LCD Screen
The α77II incorporates a large 3" TFT LCD with 1,228,800 dots pixel count for bright high resolution and high contrast display making framing and shooting a breeze – even in harsh lighting situations. Tilt it up or down to frame high and low-angle shots that would otherwise be hit-or-miss. Tilt and swivel over the camera for self-portraits. You can even tilt it up and down when you hold the camera in vertical mode! Finally, the monitor folds flush to the camera with the LCD exposed for shooting or protected for travel.
Full-Time LiveView in LCD or EVF
You can use both the LCD monitor and OLED Electronic Viewfinder for composing shots in LiveView. Both provide a what-you-see-is-what-you-get preview of white balance, focus, depth of field, exposure and 100% framing accuracy, plus informative on-screen displays.
Every Lens is Stabilized
The α77II incorporates sensor shift technology called SteadyShot® INSIDE image stabilization. This means every lens you use—from the widest angle to longest telephoto—Is corrected for camera shake and reduces blur, resulting in crisp and sharp images.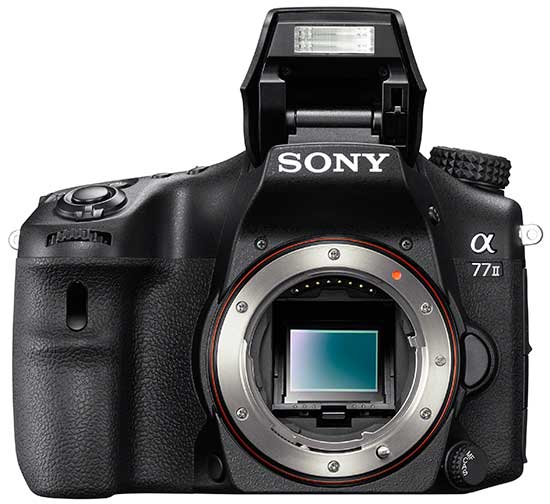 Built-in Flash (Guide Number 12)
To help you shoot more effectively, the camera includes a built-in flash (Guide Number 12) that can also trigger a wireless accessory flash (sold separately). The integrated hot shoe enables you to expand your lighting options with a range of accessory flashes (sold separately).
Long Shutter Life
A highly durable and reliable shutter unit has been proven to endure approximately 150,000 shutter releases. This durability ensures long-lasting shooting performance, including continuous shooting performance that takes into consideration the large number of photos shot by advanced users.
Here is a quick specifications comparison with the major a77M2 competitors (click for larger view):