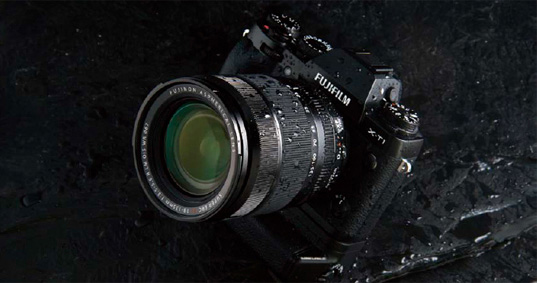 Fuji officially announced their first first weather resistant XF 18-135mm f/3.5-5.6 R LM OIS lens. The US price is $899.95 (available for pre-order at B&H and Adorama)
Lens specifications:
| | |
| --- | --- |
| Name | FUJINON Lens XF18-135mm F3.5-5.6 R LM OIS WR |
| Lens configuration | 16 elements in 12 groups(4 aspherical elements and 2 ED lenses) |
| Focal length | f=18-135mm(35mm format equivalent: 27-206mm) |
| Angle of view | 76.5°- 12° |
| Maximum aperture | F3.5-5.6 |
| Minimum aperture | F22 |
| Aperture controlNumber of blades:Step size: | 7 (rounded diaphragm opening)1/3 step (17 steps) |
| Focus range | Normal: 0.6m~∞Macro: 0.45m~∞ |
| Maximum magnification | 0.27x |
| External dimensions:Maximum diameter x length (approx.)(distance from tip to standard mount flange) | φ75.7mm x 97.8mm (Wide-angle) / 158mm (Tele) |
| Weight (approx.)(excluding lens cap and hood) | 490g |
| Filter size | φ67mm |
Lens design: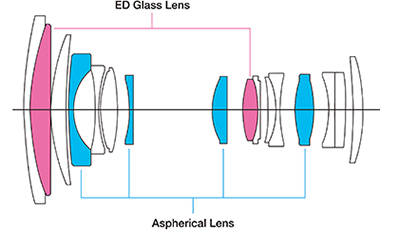 Press release:
FUJIFILM ANNOUNCES THE FIRST WEATHER-RESISTANT XF18-135mmF3.5-5.6 R LM OIS WR LENS
New XF18-135mmF3.5-5.6 R LM OIS WR is the perfect match for the FUJIFILM X-T1 and delivers extraordinary performance and image quality in challenging weather conditions
Valhalla, N.Y., June 16, 2014 – As a proponent of professional photographers worldwide, FUJIFILM North America Corporation today announced the new FUJINON XF18-135mmF3.5-5.6 R LM OIS WR,a weather-resistant zoom lens with a 27-206mm equivalent that has the world's most advanced 5.0-stop image stabilization system*1. With more than 20 sealing points for a dust-proof and weather-resistant design, the new lens is a perfect companion for the newly-released weather-resistant FUJIFILM X-T1 that gives photographers a wide range of outdoor shooting capabilities.
The award-winning FUJIFILM X-T1 is a weather-resistant premium interchangeable lens camera with a large OLED electronic viewfinder (EVF) that delivers a near-instant image preview. It has the latest generation 16.3 Megapixel APS-C X-Trans CMOS II sensor, and the segment's fastest autofocus of 0.10seconds that allows photographers to capture amazing, high resolution images anywhere.
Whisper quiet speed
With the XF18-135mmF3.5-5.6 R LM OIS WR, users get lightning-fast autofocus speeds as quick as 0.10seconds*2 and smooth performance when combined with an X-Series camera body*3 that has phase detection AF, and nearly silent operation thanks to its linear motor technology, high-precision gyro sensors and lightweight focusing lens*4. The XF18-135mmF3.5-5.6 R LM OIS WR's advanced 5.0-stop image stabilization system improves its ability to detect movement in the low-frequency band and uses an advanced algorithm to accurately sense blur from the detected signal. Additionally, its OIS performance is maximized in the slow-shutter speed range to support a lightly-equipped shooting style without the use of a tripod.
Weather-resistant operation
The XF18-135mmF3.5-5.6 R LM OIS WR uses more than 20 sealing points for a durable, weather-resistant and dust-proof design that make it the perfect choice for photographers who want an uncompromising shooting experience in even the most challenging weather conditions. And when paired with the FUJIFILM X-T1, the XF18-135mmF3.5-5.6 R LM OIS WR is the perfect lens for a wide range of focal lengths and photographic possibilities.
FUJINON XF18-135mmF3.5-5.6 (27-206mm) R LM OIS WR key features:
FUJIFILM X-Mount is compatible with all FUJIFILM interchangeable system cameras
Weather-resistant design with more than 20 sealing points
0.10 seconds autofocus speed and nearly silent operation
Powerful optical image stabilization minimizes shake and blur in low light
Two high-precision gyro sensors with quartz oscillators to detect movement from high frequency to low frequency
Air ventilator in the interior of the bottom of the lens barrel effectively prevents dust particles and moisture from getting into the lens, and allows for smooth operation and improved feel when adjusting the zoom
Optical system uses 4 high-precision aspherical lenses and 2 anomalous dispersion glass lenses that maximize performance of the FUJFILM X-Trans sensor
HT-EBC multi-layer coating to minimize ghosting
Seven-blade aperture diaphragm that helps create smooth and round bokeh effects
Advanced 5.0-stop image stabilization system that improves movement detection in the low-frequency band
Minimum working distance of 45cm
The FUJINON XF18-135mmF3.5-5.6R LM OIS WR lens will be available in July 2014 for $899.95 and fits all FUJIFILM X-Series interchangeable lens cameras.
The current Fujifilm lens family includes the following FUJINON XF and XC lenses:
XF14mm F2.8
XF18mm F2.0
XF23mm F1.4
XF27mm F2.8
XF35mm F1.4
XF56mmF1.2R
XF60mm F2.4
XF10-24mmF4 R OIS
XF18-55mm F2.8-4.0 OIS
XF18-135mmF3.5-5.6R LM OIS WR
XF55-200mm F3.5-4.8 OIS
XC50-230mm F4.5-6.7 OIS
XC16-50mm F3.5-5.6 OIS
*1 Complies with CIPA standards
*2 Complies with CIPA (Camera & Imaging Products Association) guidelines, internal measurement,
  during high performance mode, according to Fujifilm as of May 2012
*3 As of May 2014, FUJIFILM X-T1 and FUJIFILM X-E2
*4 Focusing method that moves relatively smaller lenses in the middle or rear of the lens without moving the front elements which are composed of larger lens elements.