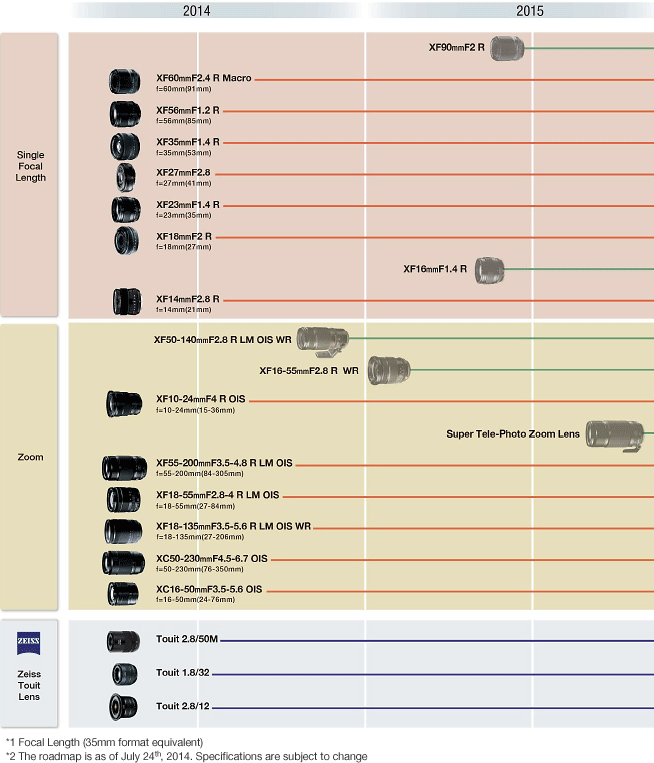 Fujifilm releases an updated roadmap for their X mount lenses – here are the main updates:
New XF 90mm f/2.0R lens scheduled for mid 2015
Next available lens will be the XF 50-140mm f/2.8 R OIS WR
XF 16-55mm f/2.8 WR will be available spring 2015
Previously announced "High speed wide angle lens" confirmed as being the XF 16mm f/1.4 R
"Super Tele-Photo Zoom" will be available winter 2015
Additional details:
A large-diameter medium telephoto lens (the XF90mmF2.0R) features for the first time on the development road map for mid 2015. Other updates to the road map include the previously announced "High speed wide angle lens" being confirmed as the "XF16mmF1.4 R" with a guide launch date of mid 2015. The availability date of the XF16-55mmF2.8 WR lens is now planned as Spring 2015 and the Super Tele-Photo Zoom lens as Winter 2015.
The next available lens will be the XF50-140mm F2.8 R OIS WR (end 2014). Following on from the XF18-135mm lens, this will be Fujifilm's second weather resistant lens designed to partner its X-T1 camera. Highly regarded for their outstanding image quality, resolution and well-built bodies, the unique X mount lens range now includes super-wide angle to super-telephoto range lenses and a large-diameter lens with rich bokeh and high resolution.