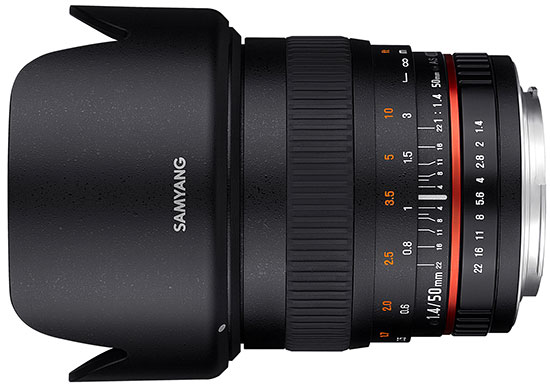 Samyang announced also a "photography" version of the V-DSLR 50mm T1.5 AS UMC lens: the Samyang 50mm f/1.4 AS UMC will be available in Nikon F, Canon AF+M, Pentax, Sony A+E, Fujifilm X, Samsung NX, Four Thirds and Micro Four Thirds mounts (check pricing and availability).
Specifications:
| | |
| --- | --- |
| Parameter | Value |
| Focal length: | 50 mm |
| Maximum aperture: | 1.4 |
| Angle of view: | 46.2° |
| Minimum focusing distance: | 0.45 m |
| Minimum aperture: | 22 |
| Number of aperture blades: | 8 |
| Focus adjustment: | manual |
| Optical construction: | 9 lens elements, 6 groups, 1 ASP, 1 Hybrid |
| Available mounts: | Canon EF, Four Thirds, Micro Four Thirds, Nikon F, Pentax, Samsung NX, Sony A, Sony E, Fuji X, Canon M |
| Dimensions (for Canon EF): | 74.7 x 81.6 mm |
| Weight (for Canon EF): | 535g |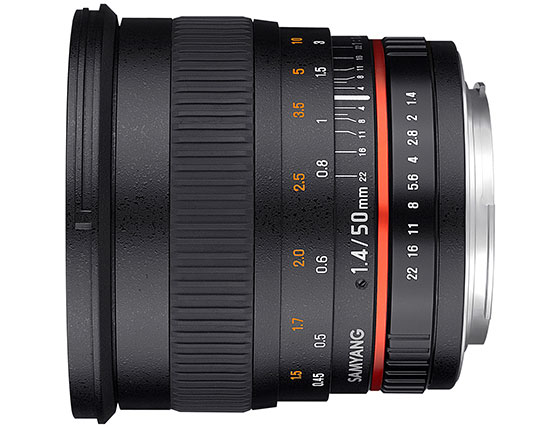 From Samyang:
Samyang 50 mm f/1.4 AS UMC has been designed for cameras and camcorders fitted with photosensitive 24x36mm or smaller sensor. It gives 46.2 degrees field of view, and thanks to high brightness value of f/1.4 it comes as a great tool in poor lighting conditions, ensuring splendid image quality and small depth of field.
Optics of the lens consists of nine lens elements arranged in six groups (including one aspherical and one hybrid aspherical lens element). To ensure high contrast and faithful colour reproduction, all lens elements have been covered with multi-layered UMC anti-reflective coatings.
Samyang 50mm f/1.4 lens ensures exceptionally smooth and aesthetic mapping for out of focus areas beyond the focal plain, producing the so called bokeh effect. Thanks to the eight-bladed aperture, the subjects located outside the depth of field are shown with extremely smooth features. This feature will be appreciated by professional filmmakers and photographers taking portrait photos.
Additional images: