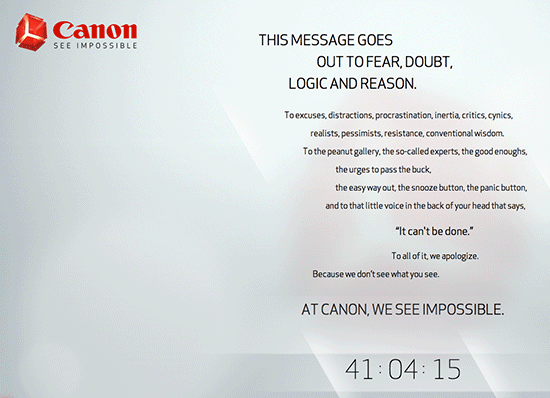 Canon USA has a new teaser that does not really make any sense – my guess is that this is not related at all to photography (see the Canon logo used). Maybe a new printer? According to the countdown, we will know more on Tuesday but don't hold your breath for a new camera or a lens. Here is the full text:
THIS MESSAGE GOES

OUT TO FEAR, DOUBT,

LOGIC AND REASON.

To excuses, distractions, procrastination, inertia, critics, cynics,

realists, pessimists, resistance, conventional wisdom.

To the peanut gallery, the so-called experts, the good enoughs,

the urges to pass the buck,

the easy way out, the snooze button, the panic button,

and to that little voice in the back of your head that says,

"It can't be done."

To all of it, we apologize.

Because we don't see what you see.

AT CANON, WE SEE IMPOSSIBLE.