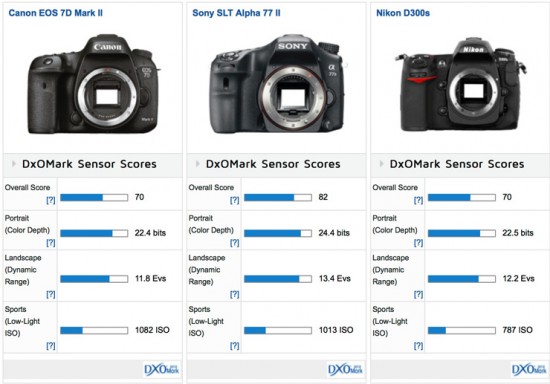 DxOMark published their test results for the new Canon EOS 7D Mk II camera - their main remark is that the camera's low ISO performance lags behind rivals. The 7D MkII overall test score is actually equal to the 5 years old Nikon D300s DSLR (dynamic range is even worse). Obviously the new 7D has several advancements not present in the D300s and many of you will question DxOMark's test practices, but here I just report their findings.
Here is the 7D Mark II vs. the Nikon D7100 comparison: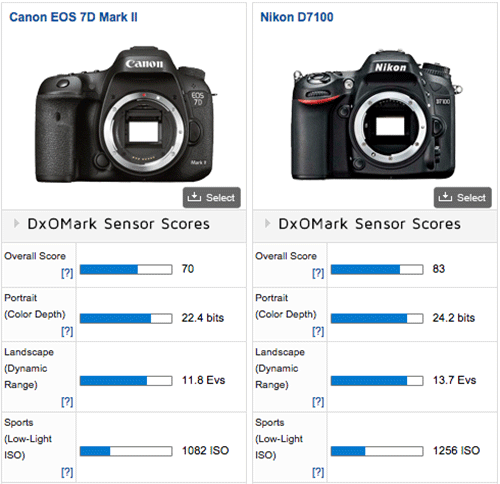 and the Canon EOS 7D Mark II vs. the first Canon 7D: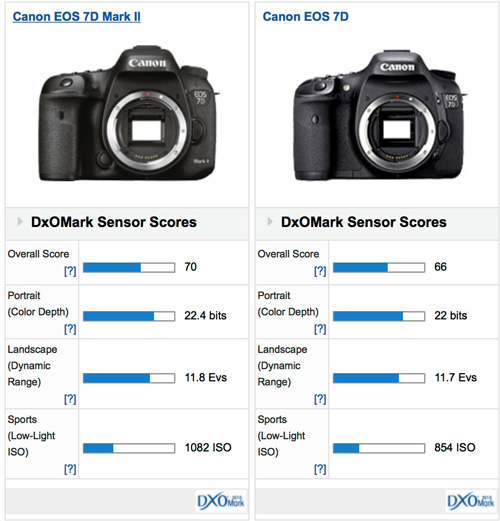 DxOMark's conclusion:
"On paper, the Canon EOS 7D Mk II looks to be a solid choice for sports and action photographers, but its sensor performance is somewhat behind the best in class, at least at low ISOs. Relatively high noise, less discriminating color, and below-average DR at base ISO all continue to hold back Canon sensors against rivals, but that's not the case at higher sensitivities. In fact, when light levels fall, the Canon EOS 7D Mk II performs competitively, even surpassing rivals slightly. If Canon could only address performance at base and low ISO, the EOS 7D Mk II would make a thoroughly convincing all-round choice, but in this category the Sony A77 II looks to be the more compelling option."
In contrast, the Canon PowerShot G7 X camera scored very well: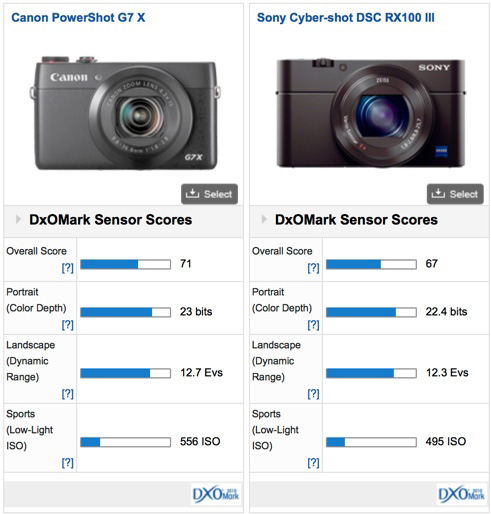 DxOMark's conclusion for the Canon G7 X:
"The G7 X has a high-speed lens with the widest range that sets it apart from the RX100 series. If the 24-70mm lens on the RX100 III is enough though the Sony is the better specified of the two, but then that's reflected in the steeper price. Although it was Nikon who was first to adopt and popularize the 1-inch sensor format, it was Sony who dominated this format with the RX100 series. Now with Panasonic and Canon adopting the sensor the field is opening up."