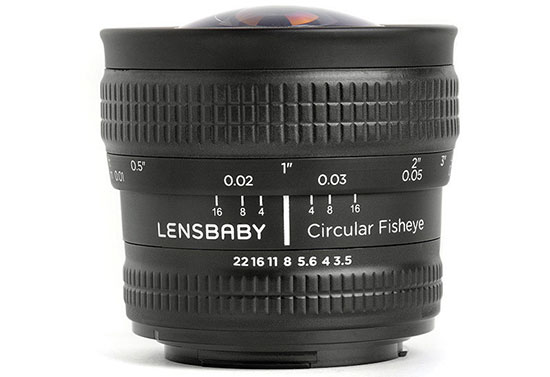 Lensbaby announced new MFT, Sony, Samsung and Pentax mounts versions of their circular fisheye 5.8mm f/3.5 lens (already available for Canon and Nikon mounts). Sample images can be downloaded here. Additional information:
Lensbaby Circular Fisheye Lens 185-Degree View Sets New Standard for Creative-Effects Photographers/ Now Available in New Mounts for DSLRS
PORTLAND, OR – Lensbaby, providing lenses to creative-effects photographers that ignite their creativity and expand their unique visions of the world, today announced the availability of new mounts for the 5.8mm 185 degree Circular Fisheye lens. The company now offers the lens in Sony A and E, Micro Four Thirds, Samsung NX, Pentax K, Canon EF and Nikon F mounts. Launched to rave reviews in April, extreme sports photographers and Google Sphere shooters are among the growing number of serious hobbyists with crop sensor cameras bringing new life to wide angle shots using this unique lens.
Digital Trends noted that with the incredible 185-degree view, the Circular Fisheye lens is able to look slightly behind itself. The reviewer concluded that the lens creates a perfectly circular image with a spectacular panoramic view. Popular Photography also noted the extremely wide field of view as well as a reflective internal barrel, which produces interesting reflections, flares, and light spills in a halo around the main image.
The Circular Fisheye is great for capturing the scale of endless landscapes and big events, fun self-portraits, quirky shots of pets or friends, creating extreme perspective, and experimenting with unique lens flare. This manual lens has built-in aperture control ranging from f/3.5-22 and features an ultra-wide 5.8mm focal length. It is capable of capturing a 185 degree angle of view and focusing from 1/4 inch in front of the lens to infinity. That extreme close-focus paired with the incredibly wide 5.8mm focal length produces other-worldly distortion with exceptional sharpness throughout.
"Serious hobbyists and professional photographers need innovative photography products to stand out from the crowd, to be different and unique, to create something imagined," said Craig Strong, Lensbaby Co-founder & Chief Creative Officer. "The Circular Fisheye furthers our mission to lead the market in developing innovative new products. We're looking forward to being blown away by what photographers create with the most versatile fisheye lens ever made."
Circular Fisheye lens Specs and Features:
5.8mm focal length
185º angle of view
f/3.5-22
Focus type: Manual
Polished internal barrel for creative flare & reflection outside the image circle
Focus distance scale & hyperfocal scale to aid in focusing
Available for Sony A and E, Micro Four Thirds, Samsung NX, Pentax K, Canon EF and Nikon F camera mounts
Size/Weight: 2.75″ (7cm) high x 3″ (7.6cm) wide / 10.5oz (298g)
Pricing
Circular Fisheye retails for $299.95 (MSRP). The lenses will be available in all mounts listed above beginning 11/28/14 through Lensbaby.com, B&H, Adorama and Amazon, and from select photo specialty stores worldwide.