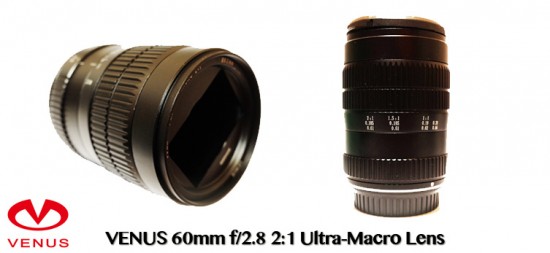 It seems that this is an old announcement, but I just spotted it online: Venus Optics announced a new 60mm f/2.8 Ultra-Macro lens, the world's first 2:1 magnification lens with infinity focus. The lens will be available in Canon EF, Nikon F, Sony Alpha and Pentax K mounts and can be purchased on eBay.
Update: a review of the Venus 60mm f/2.8 lens can be found here.
Additional information after the break.
Venus V-DX 60mm f/2.8 Ultra-Macro lens specifications:
Focal Length
60mm
Maximum Aperture
F/2.8
Minimum Aperture
F/22
Angle of View
25.3 degrees
Format Compatibility
APS-C (Both Macro and Normal shooting)
Full-frame (Macro shooting only)
Lens Structure
9 elements in 7 groups
Aperture Blades
14
Min. Aperture Size
22
Min. focus distance
18.5cm
Max. Magnification Ratio
2x
Focus
Manual Focus
Filter Size
62mm
Dimensions
95 x 70mm
Weight
503 g
Venus V-DX 60mm f/2.8 Ultra-Macro lens design: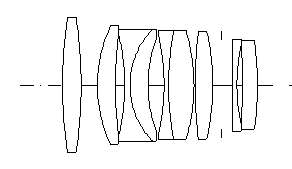 Venus V-DX 60mm f/2.8 Ultra-Macro lens MTF chart: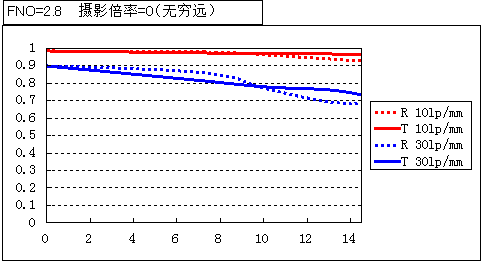 Sample photos:
Video sample:
Press release:
Anhui China, Sept 14, 2014 – Venus Optics, a new Chinese manufacturer of camera lenses, has unveiled the world's first 60mm f/2.8 2X Ultra-Macro lens, with focusing range from 18.5mm to infinity.
The new Venus 60mm f/2.8 Macro lens features a magnification range from 0.1x to 2x. Users could easily alter the magnification ratio without installing any extension tube or teleconverter, making it ideally suited for rapidly changing macro photography scenarios. This wide magnification range also makes it extremely useful for shooting macro objects (e.g. insects) with different sizes. Moreover, the lens is also designed for normal shooting purposes with a 60mm focal length, which provides an all-in-one solution for normal portrait shooting as well as ultra-macro photography.
The lens houses with 9 elements in 7 groups patented optical structure to provide great deal of image clarity and color renderness. The optical system consists of 2 major moving lenses groups in order to minimize the barrel distortion. 14 pieces of aperture blades form a close-to-circular aperture, capable of creating creamy shallow depth of view. The enclosure of the lens is made of metal to strengthen its durability. A complimentary lens pouch and filter are included in the package. Canon EF, Nikon F, Sony Alpha and Pentax K mount are available.
Sample photos and videos can be found in our English website (http://www.venuslens.net)
Pricing and Availability
Venus 60mm f/2.8 2X Ultra-Macro Lens is currently available at authorized resellers and at the English official website (http://www.venuslens.net). The recommended retail price is at USD 379. Free shipping will be provided during the promotion period.
About Us
Anhui ChangGeng Optical Technology Company Limited (Venus Optics) is a new Chinese camera lens manufacturer based in Hefei, Anhui. We currently manufacture and distribute Macro lenses under the brand name of 'Venus'.