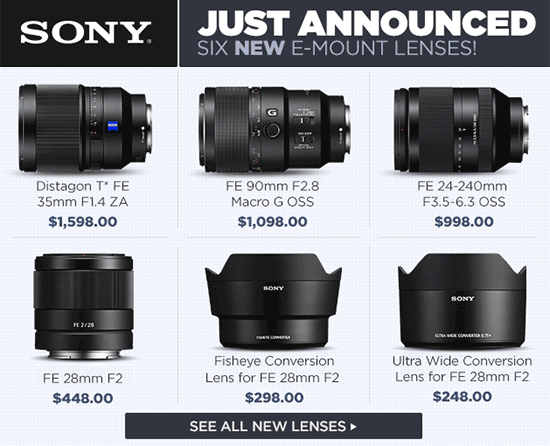 Sonny officially announced four new full frame FE lenses and two teleconverters.
Key features & specifications
| | | | | |
| --- | --- | --- | --- | --- |
| | SEL35F14Z | SEL90M28G | SEL24240 | SEL28F20 |
| 35mm equiv. focal length (when attached to APS-C body) | 52.5mm | 135mm | 36-360mm | 42mm |
| Max. magnification ratio (x) | 0.18 | 1.0 | 0.27 | AF =0.13x MF =0.16x |
| Min. focus | 0.3m | 28cm | 0.5m (Wide) – 0.8m (Tele) | AF = 29cm MF =25cm |
| Filter dia. | 72 mm | 62 mm | 72 mm | 49 mm |
| Dimensions (Dia. x L) | 78.5 x 112 mm | 79 x 130.5 mm | 80.5mm x 118.5mm | 64x60mm |
| Weight (approx.) | 630g | 602g | 780g | 200g |
| Supplied accessories | Front cap (Φ72㎜),Rear cap, Hood, Case | Front cap (Φ62㎜), Rear cap, Hood, Case | Front cap (Φ 72㎜), Rear cap, Hood | Front cap (Φ 49㎜) Rear cap, Hood |
| Color | Black | Black | Black | Black |
Pre-order options
Check also pricing and availability at Adorama.
Additional information including sample images:

Sony Distagon T* FE 35mm F1.4 ZA (SEL35F14Z) full-frame wide angle

Legendary ZEISS® optical performance is showcased in this full-frame wide angle prime that's a superior choice for uncompromising professionals and enthusiasts wanting to craft portraits, day-to-day snapshots and night scenes.
Offering a minimum focusing distance of just 0.3m, the SEL35F14Z is also the first E-mount lens to provide an extra-fast F1.4 aperture: ideal for super smooth bokeh (defocus) effects in combination with the 9-blade circular aperture.
Stunning corner-to-corner sharpness – even at maximum aperture – is assured by an advanced optical design that features aspherical elements including one Sony AA (advanced aspherical) element. Peerless optical performance is further assured by the ZEISS® T* coating that suppresses flare and ghosting for natural colour reproduction and excellent contrast.
Whether you're shooting movies or stills, the Direct Drive SSM (DDSSM) system enables whisper-quiet precision focusing, even at the shallowest depth of field. A dedicated aperture ring can be set for smooth, continuous operation – ideal for movie-makers – or with click-stops to provide tactile feedback when shooting stills. The dust and moisture resistant design ensures reliable operation when shooting outdoors.
Sony FE 90mm f/2.8 Macro G OSS (SEL90M28G) medium telephoto macro

Tailor-made for high-impact close-ups and portraits, the SEL90M28G delivers an impressive blend of clarity and exceptionally smooth bokeh – thanks to careful control of spherical aberration – that's a signature of every G Lens. The E-mount line-up's first mid-telephoto macro also features built in Optical SteadyShot (OSS) image stabilization, allowing pin-sharp images at up to 1:1 magnification even when shooting handheld.
The smooth, quiet Direct Drive SSM (DDSSM) mechanism drives two 'floating' focus groups independently, ensuring extremely precise focus positioning that's crucial for macro photography.
Inner focus maintain constant total lens length – a big plus when you're just centimetres from your subject during macro shooting. There's also a focus hold button and sliding focus ring that instantly switches between manual and auto focus. Resistance to dust and moisture helps ensure dependable performance when you're shooting detail-packed close-ups of insects and wildlife in rainy conditions.
Sony FE 24-240mm f/3.5-6.3 OSS (SEL24240) full-frame zoom
One lens, virtually limitless possibilities: the SEL24240 handles everything from landscapes and everyday portraits to thrilling sports and action scenes. Its huge 24-240mm range (10x zoom) makes this full-frame tele zoom an ideal travel partner, covering focal lengths from wide angle to telephoto without the need to carry extra lenses.
The advanced design includes five aspherical elements and one ED glass element, contributing to excellent optical performance in a compact, easy-to-handle body. Serious photographers' needs are catered for with an advanced linear motor that drives the focusing mechanism for quick, smooth response throughout the generous zoom range.
Built-in Optical SteadyShot (OSS) image stabilisation is a welcome addition for handheld telephoto shots and low-light scenes at longer shutter speeds. Like every new FE (full frame) lenses, the SEL24240 features a dust and moisture resistant design.
Sony FE 28mm f/2 (SEL28F20) full-frame wide angle prime
An ideal second lens to supplement every photographer's basic lens kit, this full-frame 28mm wide-angle prime features a bright F2.0 maximum aperture that's ideal for handheld shooting in low light.
Light, compact and designed to resist dust and moisture, the lens makes a beautifully-proportioned match for Sony's acclaimed α7 series full-frame camera bodies, with a high-grade aluminium finish adding instant visual appeal. The 9-blade circular aperture, three aspherical lens elements – including one AA (advanced aspherical) element – and two ED glass elements ensure excellent edge-to-edge sharpness plus beautifully smooth defocused areas. All lens surfaces are multi-coated to suppress flare and ghosting with backlit shots.
The inner focus mechanism is driven by an advanced linear actuator for whisper-quiet AF, with overall lens length remaining constant during focusing.
For even wider perspectives, the optional SEL075UWC Ultra-wide Converter and SEL057FEC Fisheye Converter respectively increase angle of view to 21mm or 16mm fisheye with full 180° coverage. Maximum aperture of each converter when mounted on the SEL28F20 is F2.8 and F3.5 respectively. In a first for α lens converters, corresponding EXIF data is generated with either converter attached to the lens.
The SEL28F20, SEL075UWC and SEL057FEC are all available separately. In addition, photographers are offered two value 'kits' that bundle the SEL28F20 with the SEL075UWC or SEL057FEC respectively.
Sony VCL-ECU2 Ultra-Wide and VCL-ECF2 Fisheye APS-C converters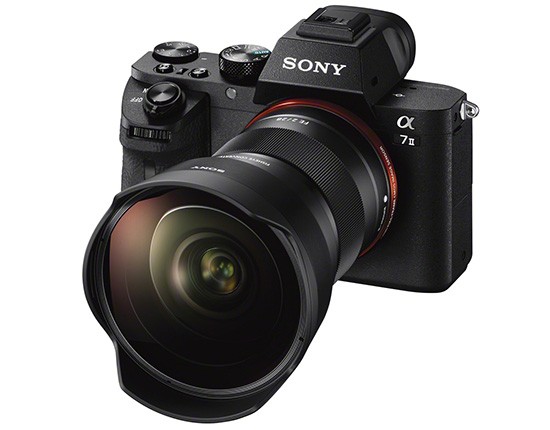 There's no need to compromise optical performance when exploring extreme wide-angle and fisheye perspective effects.
The VCL-ECU2 adapter is compatible with the SEL16F28 16mm F2.8 and SEL20F28 20mm F2.8 wide angle (APS-C) lenses, boosting ultra-wide angle performance to 12mm (with SEL16F28) or 16 mm (SEL20F28). The VCL-ECF2 Fisheye Converter creates exaggerated perspective effect, with a full 180 degree field of view for the SEL16F28, and 133 degrees for the SEl20F28. Each converter sports a smart new black finish.
Comparison between SEL28F20, SEL075UWC and SEL057FEC: