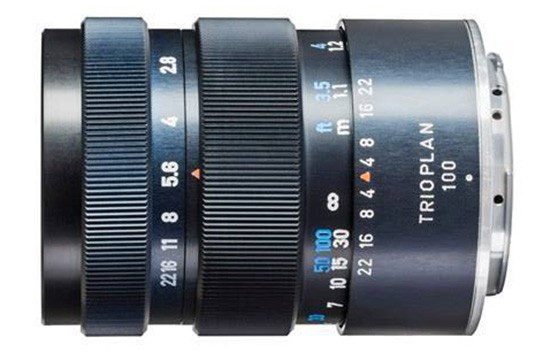 Few months ago I reported about a new Trioplan 100mm f/2.8 lens from the German manufacturer Meyer Optik Görlitz that will be available for Nikon, Canon, Fuji X, Sony NEX and MFT mounts. The price of the lens will be €1,400. Shipping will start in December. Sample images can be found here:
The company just published some additional information on the upcoming lens:
The original Trioplan f2.8/100 lens from Meyer-Optik-Görlitz gained a fanatical following of photographers who fell in love with its dream-like soap bubble 'bokeh' effect.

The modern remake of the famous lens, currently in prototype, uses experience and modern technology to emulate this stunning effect more authentically than ever before. Great news. But what exactly is a 'bokeh' effect, and why is it so well-loved?

The distinctive circular shape in the Trioplan bokeh derives from the number of aperture blades. The Trioplan f2.8/100 is made of fifteen steel aperture blades whereas modern lenses often have only six plastic blades. This results in a circular aperture rather than the more common hexagon. The more blades, the more circular the aperture is.
Update: the company also announced the opening of a new subsidiary in the US – Meyer Optik USA Inc, headquartered in Atlanta, Georgia:
We are pleased to share the opening of a new net SE subsidiary, Meyer Optik USA Inc., headquartered in Atlanta, Georgia.

Our new Meyer Optik USA office will support us in the distribution of Meyer Optik Goerlitz products in the United States. It will also spearhead the relaunch of the legendary Trioplan f2.8/100 lens to the US market. The original Trioplan was constructed in 1916 and is recognized for its classic 'soap bubble' bokeh.

Dr. Stefan Immes, executive director, net SE said: "The name Meyer Optik Goerlitz has been associated with innovation, precision, durability and quality in the world of photography for nearly 120 years. We're proud to have revived the brand last year but this next step—to remanufacture one of the classic lenses of all time, the Trioplan f2.8/100—is a very exciting time for us. It's great to bring back such a highly-regarded and sought-after lens nearly a century after its first appearance. We look forward to bringing the Trioplan f2.8/100 to a new fan base so it can experience a modern take on this classic soap bubble bokeh lens."

Our team has been working on design, testing and prototypes ready for pre-orders of the new Trioplan f2.8/100 in June 2015. If you'd like to receive updates, please sign up here: http://www.meyer-optik-goerlitz.com/sign-up/

The first remanufactured Trioplan f2.8/100, due to be announced in June 2015, will fit Canon, Fuji, M42, MFT, Nikon, and Sony-E camera mounts.