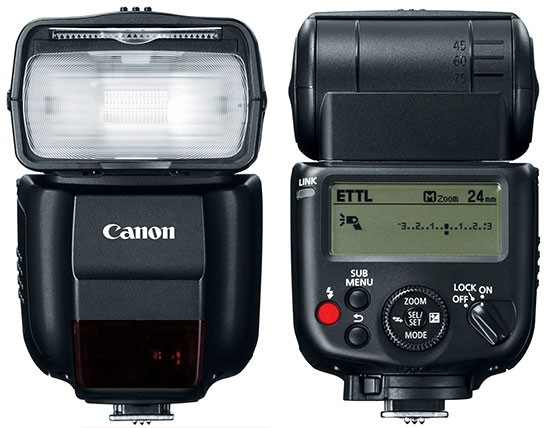 Canon announced a new wireless Speedlite 430EX III-RT flash and accessories. The new zoom flash has a compact body, built-in Catchlight panel, dot-matrix LCD and a Multi dial (guide number 141 feet, 24-105mm zoom). Here are the US prices:
Canon 430-EX III features:
Compact body for space efficiency and style.
Zoom flash head covers a range of 24-105mm; maximum guide number 141 ft./43m at ISO 100.
Convenient controls include a built-in Catchlight Panel to help enhance the subject's facial expression, Dot-matrix LCD and Multi Dial that help provide smooth operation anduse.
A broad bounce angle range allows the flash head to be moved up from 0-90°, 150°to the left and 180° to the right.
Wireless flash shooting support is available for both radio and optical transmission offering users greater functional range when using a flash.
Shortened recycling time and quick firing from 0.1-2.5 seconds per flash.
Accessory options include a color filter and new bounce adapter that adjust temperature and brightness helping to produce more natural-looking photographs.
Enhanced Flash Exposure Compensation and Light Distribution settings allow the user to make lighting adjustments based on their specific needs.
10 Custom Functions and 8 Personal Functions allow the user to tailor the Speedlite to their personal needs.
More details in the press release:
Canon U.S.A. Adds To Flash Lineup With Speedlite 430EX III-RT
New External Flash Unit Features Wireless Flash Shooting and Compact Size
MELVILLE, N.Y., July 8, 2015 – Canon U.S.A. Inc., a leader in digital imaging solutions, today announced the new Canon Speedlite 430EX III-RT external flash unit featuring – for the first time in the Canon 430EX series – radio-controlled wireless flash shooting capabilities1 designed to make creative light control more manageable and versatile for photographers of all levels. This third generation Speedlite is a perfect primary flash unit for amateur and advanced amateur photographers looking to create beautiful portraits with Canon digital cameras such as the EOS Rebel T6i, as well as professional photographers looking for a small and lightweight secondary flash.
"Canon is proud to offer outstanding photographic accessories that help enhance a photographer's overall creative experience when shooting with our EOS DSLR cameras," said Yuichi Ishizuka, president and COO, Canon U.S.A., Inc. "The new Speedlite 430EX III-RT provides photographers with a very responsive flash unit having new wireless capabilities that enable users to create more professional lighting effects than if they were to rely on their camera's pop-up flash alone."
Featuring enhanced functionality and operability over its predecessor (the Canon Speedlite 430EX II), the new Canon Speedlite 430EX III-RT features wireless flash shooting via optical or radio transmission (similar to the Canon Speedlite 600EX-RT but slave function only), now with shorter recycling time and quicker firing. This multi-functional flash unit makes more advanced flash shooting easy for any photographer with its intuitive, user-friendly operation, abundant bounce and swivel shooting functions and advanced features including a maximum Guide Number of 43/141 at ISO 100 in meters/feet, auto zooming from 24-105mm, Hi-Speed Sync and Second-curtain Sync. In addition, the Speedlite 430EX III-RT has been reduced in size and weight compared to its predecessor.
Featuring another first for the 430EX series of flash units, the Canon Speedlite 430EX III-RT also includes an SCF-E2 Color Filter which helps balance color temperature when shooting in incandescent lighting, an SBA-E2 Bounce Adapter that helps soften light while helping suppress shadows, a built-in Catchlight panel, illuminated dot-matrix LCD, new control dial, light distribution options, multi-camera sync shooting, and remote shutter release. Enhanced functions include broader bounce angle range and flash exposure compensation via the new control dial. Also included are two cases – one for the flash and one for the filter and adapter.