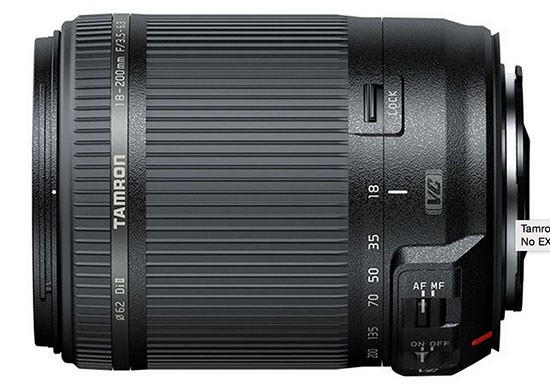 Tamron announced a replacement of their current 18-200mm f/3.5-6.3 model. Here are the specifications, MTF charts and additional information on the new 18-200mm f/3.5-6.3 Di II VC lens model B018 – the lightest zoom in the world (the price is $249):
Specification:
Model name
B018
Focal length

18-200mm

Brightness
F / 3.5-6.3
Angle of view (diagonal angle of view)
75 degrees 33 minutes to 7 degrees 59 minutes
Lens constitution

14 group 16 sheets

Shortest shooting distance

Focal length 35mm when 0.77m, focal length 180mm at the 0.49 m
[focal length 18mm, 200mm to 0.5m]

Maximum magnification

1: 4 (f = 200mm at the time: the shortest photographing distance 0.5m)

Filter diameter
Φ62mm
Greatest dimension
Φ75mm
Length
96.6Mm * (for Canon), 94.1Mm * (for Nikon)
Mass
400 g
Aperture blades
Seven (circular aperture
Minimum aperture
f/22-40
Standard accessory
Flower-shaped hood, lens cap
Corresponding mount
For Canon / Nikon / for Sony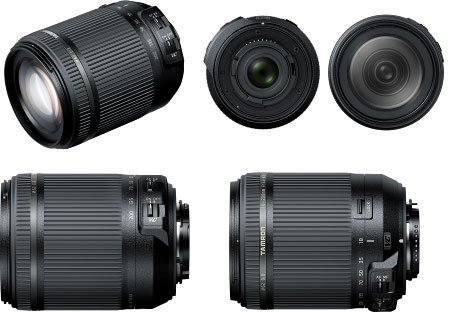 Tamron 18-200mm f/3.5-6.3 Di II VC lens features:
From the wide-angle with a single lens to telephoto, corresponding to the shooting of various scenes
The cover easy-to-use focal length 18-200mm the (35mm-format equivalent 28-310mm equivalent) with a single. From a wide-angle 18mm that can reproduce widely even in a narrow place, to the telephoto 200mm that can copy larger in the distance of the object, and then a wide range without a lens exchange. If there is a single "18-200mm VC", from family record photo, portrait, landscape, animal, up to cooking, you can enjoy a variety of shooting feel free to.
To improve the mobility in the world's lightest 400g
It covers a broad focal zone of 18-200mm, while also equipped with a camera shake correction mechanism "VC" to realize the world's lightest * 400g. Mobility in order to enjoy the feel free to shooting, pursued the convenience. also in combination with the APS-C size digital SLR camera that small size and lightweight advance, it does not impair the balance at the time of holding.
The shooting functions of peace of mind to the digital single-lens reflex camera novice, VC and AF
Equipped with the award-winning Tamron camera shake correction mechanism "VC (Vibration Compensation)" ※ 2). Shake-prone telephoto side, the room, even in the shooting conditions such as nightscapes, low illumination, reducing the occurrence of effectively shake. In addition, the AF unit of the DC motor and a new design, is much AF speed and quiet as compared to conventional DC motors models equipped with improvement. Stress-free and can be comfortable shooting.
To achieve a high optical performance by the latest optical design
Lens arrangement 16 sheets group 14. LD: effectively suppress chromatic aberration by adopting a (Low Dispersion abnormally low dispersion) lens. The camera shake correction mechanism and new equipped, even while achieving the world's lightest *, by the latest optical design, to achieve a further improvement in imaging performance. In addition, by adopting a circular aperture of 7 blades, and also considered the representation of the blur. You can depict a blur of a point light source as a natural circle.
Also consideration to usability as a prime lens
In consideration to the outdoor shooting, it adopted a simple drip-proof structure. It will allow a comfortable and secure shooting. In addition, it employs a zoom lock mechanism to prevent the weight fall when in portable mode.
MTF charts:

Lens design: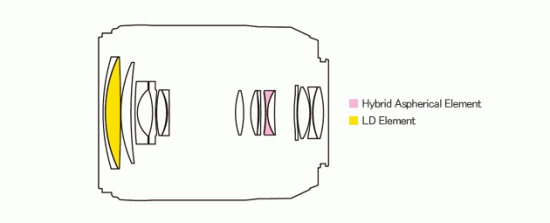 Press release:
New Tamron 18-200mm zoom is the lightest in the world
High-performance lens features VC image stabilization, improved AF and weighs just 400g (14.1 oz.) 18-200mm F/3.5-6.3 Di II VC (Model B018)
August 6, 2015, Saitama City, Japan – Tamron Co., Ltd. (President & CEO: Morio Ono), a leading manufacturer of precision optics, today announces the introduction of a new high-performance lens that zooms from 18 to 200mm for APS-C DSLR cameras.
The new 18-200mm F/3.5-6.3 Di II VC (Model B018) is the successor to AF 18-200mm F/3.5-6.3 XR Di II LD Aspherical [IF] MACRO (Model A14), which has been one of Tamron's best-selling lenses since its introduction 10 years ago. The new 18-200mm VC uses the most modern optical and mechanical design to achieve compactness and high performance. Incorporating image stabilization, the 18-200mm VC delivers superior image quality and is the lightest zoom in its class. Tamron made full use of its long experience and expertise as a pioneering force in high-power zoom lenses to create an optimal all-in-one™ lens that opens up new photographic possibilities to all DSLR camera users.